The first edition of Asian designer week ended on a high note with Bollywood Actress Bhumi Pednekar Walking down the ramp for the finale designer Charu Parashar.The two day fashion show organised by iGenius Entertainment saw guests in attendance with their support to the cause of Asian Designer Week i.e – to strengthen the bond that exists between Asian countries with respect to the cultural values, traditions and heritage despite the diversities, with fashion and pure talent.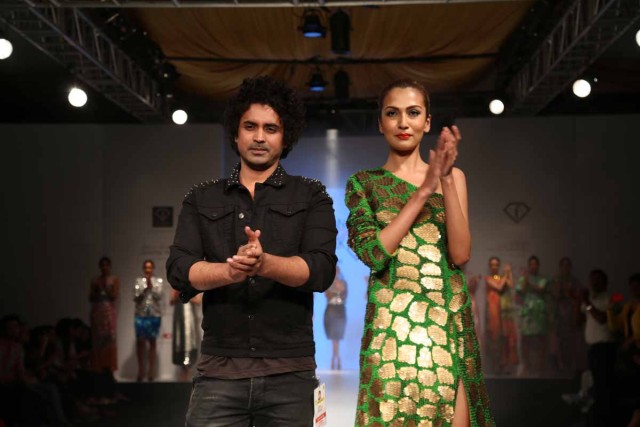 We were very excited to open the first season of Asian Designer Week. Today we witnessed a beginning of new era in Asian fashion with stunning collections by leading designers from India and International fraternity. And that's the concept behind Asian Designer Week – to strengthen the bond that exists between Asian countries with respect to the cultural values, traditions and heritage despite the diversities, with fashion and pure talent.
Asian Designer Week has been solely conceived for promoting the interests of Asian fashion designers and artists at global level. Most importantly, we also want to give an equal opportunity to existing and fresh talents across the continent, therefore we kept shows for NewGen and NextGen (Fashion Students) designers as well. And I am amazed with the collections that our NewGen designers have shown today. They are definitely going to make us proud."  Says Robby Rawat Director iGenius Entertainment.
The shows were on the 28th and 29th of October 2015 at Hotel Golden Tulip, Chattarpur, New Delhi.
Asian Designer Week 2015 is powered by FTV in association with F Bar & Lounge CP, Choreographed by Liza Varma, Audi Delhi West, Blossom Kochhar Aroma Magic, iGenius Global Services and Piquor. The institutional partners are Pearl Academy and JD Institute of Fashion Technology.
Designer Abhi Singh (India)
Designer Abhi Singh opened the Asian Designer Week with his collection Melancholy; we can call this a journey. Melancholy is all about go getter attitude so he used the colors like dark, dusty and burn.
Designer Hina Madhumal (NewGen) –
Hina's couture collection is inspired by the struggle of today's women who are like warriors. The one who are strong and confident about themselves.
Designer Sonia Sri (NewGen) –
Sonia's collection is inspired by the Hyderabad iqqat work, workers who basically weave, the collection comprises of Festive dark colors. She introduces Indian Sillhoute with western countries
Designer Yolanda Aluwihare (Srilanka)
The complex art of silk painting and her experience with natural fabric and batik design are the lethal combination that distinguishes her clothing from an already cluttered market. Over the years her silhouettes have evolved in keeping with contemporary fashions.  Timeless designs, lush fabrics, extraordinary colour combinations and an eye for perfection has earned Yolanda a place on the fashion platform of fame both nationally and internationally.
Designer Rahul Singh (India)
He's known for his designs that complement the achieving woman and he doesn't mince his words when he says his present collection is aimed towards women who are composed, calm, serene and with a certain sense of maturity, which only comes with age and experience. Rahul Singh's latest spring collection is beautifully crafted for the woman of substance and he let's us know why.
Designer Larisa Katz (Germany – Non Asian Category)
My collection has been inspired from recycle products that we usally use at home, I have understood the price of clean air therefore with my current Collection i want people to understand the importance of saving our environment
Designer Sonia Jaitleey from India revived his new collection "Exoticism". The Collection is amalgamation of ideas & simplicity of the designer. The inspiration behind this collection is nature, flowers, and rainbow. The fabric used was georgette & silk satin with the pink and blue colours.
Designer Ankita Chaudhary from India – SAAJ BY Designer Ankita Chaudhary is based on soul stirring emotion that represents everything unsaid in a modern girl's life, the collection is an extension of her personality, a personality that is vivid and constantly reaching for the stars rather than standing and counting them. With touches of Swarovski and detailed patterns complimented by crystal based work.
Designer Charu Parashar from India – Redefining bridal couture by lending a subtle and minimal character to it, fashion designer Charu Parashar presents her Bridal Couture collection at the grand finale of Asian Designer week in New Delhi. The collection has been designed keeping in mind the sensibilities and needs of "New Age Contemporary Bride".
Charu's bridal couture this season is an attempt to reinvent the traditional bridal silhouette in a new avatar for the Indian Bride.
Designer Lida O'Reilly from Mauritus  – Lida O'Reilly's collections are glamorous and modern; she blends different cultural influences giving her designs the "metisse and versatile look".  Her latest couture collection eluded luxury by way of rusching, draping and ruffles in some stunningly extravagant fabrics which had the audience of press, fashion industry and upscale consumers lining up to speak to the designer afterwards.