Smart city, and smart home, smart drone, and radar-based sensing technologies foster IoT innovations
Ho Chi Minh, Vietnam – Media OutReach – June 13, 2017 – Arrow Electronics, Inc., today announced that it will co-host a seminar and an exhibition with Infineon Technologies, a world leader in semiconductor solutions, to showcase the latest IoT solutions at Saigon Innovation Hub, on 13th June in Ho Chi Minh City, Vietnam. The collaboration aims to provide a platform for Vietnamese technology and engineering experts to exchange insights and accelerate the nation's IoT development by adopting cutting-edge intelligent sensing technology, latest security solutions for IoT and smart drone solutions provided by Arrow.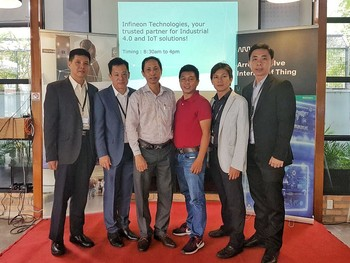 As one of the fastest-growing economies in the Asia-Pacific region, Vietnam is ranked as a tier 1 emerging market location for IT offshore services by Gartner. The country is rapidly beefing up its ICT sector following the government's latest pledge to invest US$ 111.6 million in the ICT sector by 2020 in a bid to capitalize massive opportunities brought by IoT.
The Arrow x Infineon seminar and exhibition comes at the right time to provide an opportunity for industry experts and manufacturers to gain insights about the latest IoT technology and security innovations.  During the seminar, technology and engineering experts from Arrow and Infineon will shed light on the latest trends and security requirements in emerging IoT applications. At the exhibition area, participants will have the chance to understand a full range of intelligent solutions and products such as
Smart drone solutions,
IoT applications powered by radar-based sensing technology
Smart city, smart home solutions
Intelligent systems with pressure and temperature sensors, and
Arrow-built Dragonboard 410c — an all-inclusive gateway featuring a Qualcomm® Snapdragon™ processor. Compatible with Microsoft Azure IoT Suite and IBM's Watson IoT Platform, and bundled with Amazon's IoT Software Development Kit, this credit card-sized kit makes data processing much quicker and easier for embedded developer communities, makers and hobbyists to develop product prototypes for IoT applications.
"Robust security system in the trusted computing and networked environment has to be in the forefront of today's ICT investment decisions focusing on IoT deployment," said Goh Say Yeow, vice president Chip Card & Security Division at Infineon Technologies. "With our joint collaborations, we showcase our deep knowledge and expertise in embedded security, intelligent solutions and sensing technologies and equip local engineers, system integrators, and technology manufacturers, with the best-in-class solutions to unlock the infinite IoT potentials."
"We are excited to see Vietnam is stepping up investment in developing the country's IoT ecosystem, " said Natarajan MM, vice president of sales, South Asia for Arrow's Asia-Pacific components business. "With our holistic IoT approach and expertise–everything from electronics hardware, sensors and product design to connectivity, data analytics and even secure, sustainable end-of-life asset retirement, we look forward to working with Vietnamese IoT innovators and technology manufacturers, engineers in advancing the nation's technology capabilities in adopting IoT technologies."
About Arrow Electronics
Arrow Electronics is a global provider of products, services and solutions to industrial and commercial users of electronic components and enterprise computing solutions. Arrow serves as a supply channel partner for more than 125,000 original equipment manufacturers, contract manufacturers and commercial customers through a global network of more than 465 locations serving over 90 countries.