There has been a consistent increase in analytics professionals commanding salary of over 15L
Mumbai is the highest paymaster in analytics, followed by Bangalore and Delhi
Telecom offers the highest average salaries in analytics followed by retail and energy sectors
Women analytics professionals earn 32% lesser salaries compared to their male counterparts
New Delhi, 3rd April, 2018: Great Learning, a leading analytics learning platform and Analytics India Magazine, today came out with their 'Salary Study – 2018' that explores a range of current and emerging compensation trends in the Analytics & Data Science space across India. The study points out that while the salary of analytics professionals across various industries and specializations are improving steadily, the IT sector has shown a downward trend with lowest analytics salaries this year.
The study analyses the impact of factors like geographical location, industry and experience on the salary that professionals in this space command.
The Indian Data Analytics Industry, currently worth $2 billion is expected to witness a massive eight-fold growth and is expected to be worth $16 billion by 2025, according to Nasscom. Keeping with expectations, the study indicates that the median salary of analytics professionals is growing year on year. The average salary of data science professionals across all skill sets and experience levels was INR 12.7L in 2017, an 8% increase since 2016, on a much larger base of professionals. The study further indicates an improvement in the entry and mid-level salaries being commanded by analytics professionals:
Key salary trends: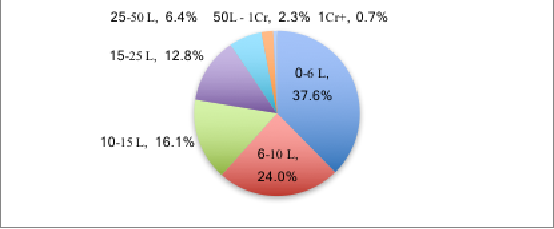 Close to 40% analytics professionals earn an annual salary upwards of INR 10L.
Increasingly, analytics professionals are commanding salaries upwards of INR 6L. In 2018, 37.6% of Analytics professionals in India received a salary of less than 6 Lakhs, compared to 39% in 2017 (39%) and 42% in 2016.
Mid-level analytics professionals are now progressing towards a higher salary bracket of INR 15 to 25L. While the number of Analytics professionals commanding salaries less than INR 10 Lacs has gone down; the number of Analytics professionals earning more than INR 15L has increased from 17% in 2016 to 21% in 2017 to 22.3% in 2018.
While there is a significant rise in mid-senior professionals earning between INR 25 to 50L, those with salaries in extreme brackets (upwards of INR 50L) have seen a decline from 3.7% in 2017 to 3% in 2018.
Salary trends across cities: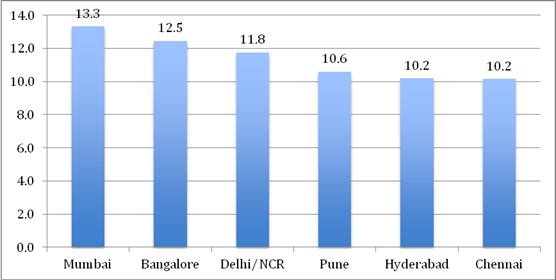 Mumbai, with highest cost of living in India, continues to be the highest paymaster in Analytics at almost 13.3L per annum, followed by Bangalore at 12.5L and NCR at 11.8L.
Among upcoming metros, Pune is a higher paymaster at 10.6L than Hyderabad and Chennai despite being a smaller city.
Chennai & Hyderabad are the lowest paymasters at 10.2L.
Mumbai leads the pack in more than 15L salary bracket, with 27% earning within this bracket, followed closely by Bangalore at 24% each.
Salary trends as per experience level:
The good news is that more entry level (fresher) professionals have entered the analytics workforce this year, indicating that the industry is maturing. However, analytics salaries saw a 21% decline at the entry level from INR 6.6L to 5.2L per annum, for candidates with less than 3 years of experience, this year. That said, salaries across experience levels is a critical factor to judge how the industry rewards seniority. As per the trends, the salary increases have been relatively higher, especially at higher experience bracket. At 12+ years' experience, the salary rises in the sector have been around 20% this year. A transition to senior analytics leader, with more than 12 years of experience, can lead to almost 60% increase in salary.
Salary trends as per industry:
While analytics is penetrating across sectors, salary slabs of employees also depend on the industry they are serving. According to the study, telecom offers the highest median salaries in analytics at 18.6 Lakhs whereas media & entertainment offers the least median salaries for analytics professionals at 10.3 Lakhs.
Telecom industry has highest number of professionals within 50L – 1Cr salary range.
Energy/ Utilities/ Manufacturing sector has highest number of professionals earning over 1Cr salary range.
Maximum number of entry-level analytics professionals are employed at ecommerce firms with an average salary of 11.2L.
Gender gap:
Data analytics evolving as a lucrative career option is one thing. However, there is still a long way to attain pay parity across genders, in this profession. Women analytics professionals earn 32 per cent lesser salaries compared to their male counterpart.
Other findings:
Salary slabs also depend on the analytics tool a professional has mastered. Today, R programming skills are hugely in demand with specialists commanding an average of 14.4L, closely followed by Python with the salary of 14L. Hadoop and SAS professionals saw a jump in their salaries from last year and now draw 12.6L and 11.9L respectively per annum.
Advanced analytics/predictive modeling professionals are paid the highest salaries at 14.5 Lacs on median. Big data professionals and data mining professionals get up to 14 Lacs & 11 lacs on median. BI, Reporting, MIS professionals get up to 8.7 Lacs on median.
Among various types of organizations that hire data scientists, captive analytics centres continue to be the highest salary provider at 15.2 Lacs, followed by consulting firms at 14.9 lacs and domestic firms at 13.4 Lacs. IT firms provide the lowest analytics salary at 10.1 Lacs.
Education plays a vital role in determining salary of analytics professionals. Those with PHD command a salary of 22.7 Lacs on median, MBAs from premier institutes get around 22.2 Lacs, and engineering graduates, not from premier institutes, draw around 9.8 Lacs.
Hari Krishnan Nair, Co-founder, Great Learning said, "Data science jobs are both lucrative and intellectually fulfilling. The monetary perk of a career in data analytics is huge. Organizations irrespective of their industries are looking for analytics professionals with diverse skills sets. Job roles like Machine Learning Engineers, Data Scientists, Data Mining Specialists, Cloud Architects and Cyber Security Analysts are in heavy demand and command good salary. Machine Learning and Analytics skills can easily yield a net package of 12-14L/ annum. However, to be successful in this profession, upskilling oneself with the latest technology is imperative. We are entering an age of lifelong learning."
Bhasker Gupta, Founder and CEO, Analytics India Magazine said "Analytics India Annual Salary Study aims to understand a wide range of current and emerging compensation trends in analytics & data science organisations across India. The idea is to provide a reference point on key aspects around analytics salaries in India and potential future HR trends. In collaboration with Great Learning, the study brings a cumulative picture of salary trends across company type, skills, analytics tools, cities, experience level, education level etc."
Commenting on the study he added, "IT service providers, primarily providing services to analytics clients across the globe, have been affected the most with their analytics salaries going down. This can be largely attributed to the overall negative impact on IT sector such as automation, and increased attrition rate in IT space".
About Great Learning
Great Learning is an ed-tech company that offers programs in career critical competencies such as Analytics, Data Science, Big Data, Machine Learning, Artificial Intelligence, Cloud Computing and more. Over 5000+ professionals have taken Great Learning programs and it has already delivered 2+ million hours of learning in analytics. The company is on a mission to make professionals proficient and future ready. At Great Learning, all the programs focus on the next frontier of growth in industry and currently straddle across Analytics, Data Science, Big Data, Machine Learning, Artificial Intelligence, Cloud Computing and more. Great Learning has six centers across the country in Gurgaon, Bangalore, Hyderabad, Pune, Chennai and Mumbai.