National, May 03, 2017: One of the most popular mythology writers of our times, Amish launched the book cover of his highly-awaited Book 2 in the Ram Chandra series – 'Sita-Warrior of Mithila' today. The cover launch of this thrilling adventure that chronicles the rise of Lady Sita was held atTitle Waves Bookstore in Mumbai.At the book cover launch, the renowned author was accompanied by none-other-than the Bollywood Actress and Producer, Raveena Tandon.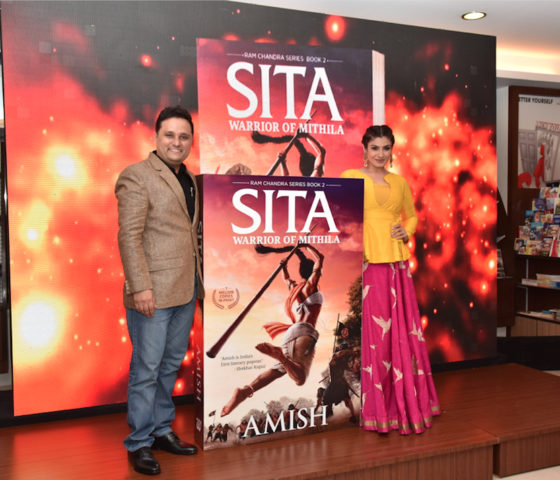 Amish's new book, which revolves around Lady Sita, defies the image we have of the Goddess and portrays Lady Sita as a feminist icon. Amish's new book cover perfectly captures her as a fearless warrior. A powerful Lady Sita is shown on the book cover with her lathi, single-handedly fighting a crowd of men who have come to abduct her.
Commenting on the cover launch for the book, Amish said, "Ancient India witnessed a far more equal social set-up than we have today. The cover depicts Lady Sita to be a fearless warrior and the book will capture her journey from an adopted child to a fierce warrior and then becoming a Goddess."
Raveena rightly emulates the spirit of the modern woman, who is independent and powerful much like Amish's Lady Sita. It is fitting that the actress graced the event to unveil the cover of the book.
Talking about the cover of the book, Raveena Tandon said, "In ancient India, women held positions of power and led countries as queens and fiercely fought on the battlefield. They enjoyed more freedom and respect from the society. It is great to see that Amish is bringing that alive through Lady Sita and the cover beautifully illustrates her as a true warrior."
1