Premier Village Phu Quoc is the group's third property  on Vietnam's largest island
AccorHotels announces the opening of Premier Village Phu Quoc, Managed by AccorHotels, an all-pool-villa resort on Vietnam's "Pearl Island", where guests can enjoy sunrise, sunset, and plenty of sun-kissed island moments in between.
Nestled amongst the forested Ong Doi Cape, Premier Village Phu Quoc resort brings high-end lifestyle vacation experiences to country's largest island, offering guests a serene hideaway set against a stunning marine landscape. The resort opens onto crystal clear waters, white sandy beaches, and magnificent ocean views, framed in the verdant jungle surroundings. While there are endless discoveries on the island, the resort is a destination by itself with inviting private infinity swimming pools amongst its luxurious recreation facilities.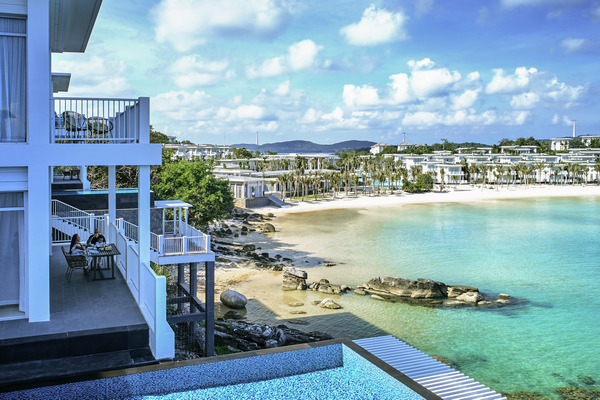 "Premier Village Phu Quoc Resort caters to affluent local and international travellers on this increasingly popular destination known for its stunning beauty, eco-tourism and cultural attractions," said Mr. Patrick Basset, Chief Operating Officer for AccorHotels Upper Southeast & Northeast Asia and the Maldives. "The resort is the third property on the island to be managed by AccorHotels offering travellers a private escape with its stunning villas that overlooks the ocean front."
Each of the resort's 217 luxurious villas features a private swimming pool, a wide balcony that offers breathtaking views, a spacious living and dining room plus a fully equipped kitchenette. The two storey two- to four-bedroom villas are perfect for family retreats and romantic getaways.
Perched on gigantic boulders, the stunning four-bedroom On the Rock Villas and three bedrooms Oceanview Villas are designed to offer complete privacy and tranquility. The Beachfront villas on the shoreline offer stunning sea views with convenient beach access. Set amidst a lush tropical garden, the Island Villas are ideal for those who wish to cocoon in total privacy.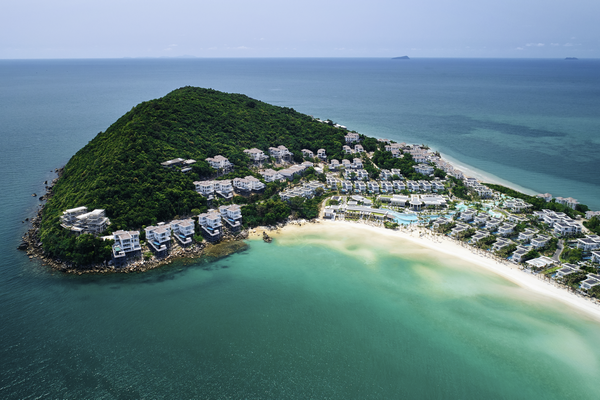 "Premier Village Phu Quoc Resort is the perfect place for vacation or incentive travellers who seek a delightful escape from their busy lives to rejuvenate and revitalize for the weekend. Guests can also visit the nearby Hon Thom Island accessible from An Thoi town via a breathtaking eight-kilometre cable car experience," said Mr Jean Francois Brun, the resort's General Manager.
Phu Quoc is also well known for serving the best seafood in Vietnam, and Corallo restaurant features the freshest grilled catch-of-the-day in addition to a range of Mediterranean dishes with wine pairings to highlight the subtle flavours of each course.
The Market is an all-day-dining restaurant that serves sumptuous buffet and a la carte menu selections including local favourites Banh Mi (Vietnamese bread) and Banh Xeo (Vietnamese pancake) with a choice of indoor and outdoor dining spaces.
The best views of Phu Quoc will soon be enjoyed at the hotel's Sunset Lounge, an enchanting venue opening late 2018 for intimate meet-ups, private parties and special occasions. In addition to the three restaurants and bars, guests staying at the hotel also have the option to design a bespoke dining experience prepared by a private chef.
Premier Phu Quoc Resort offers an extensive range of leisure facilities, including Plumeria Spa, a fitness centre, a large scenic communal swimming pool and a Kid's Club. Tucked away at the end of the forested peninsula and opening this summer 2018, the Bill Bensley-designed Beacon sets the stage for unforgettable events on an elevated platform perched by the water's edge that can cater up to 200 guests. To celebrate the opening, Premier Village Phu Quoc offers complimentary round-trip cable car ticket for all guests who book a minimum three-night stay at its villas.
AccorHotels today counts 24 hotels and 5,506 rooms in operation throughout Vietnam and more than 10 hotels in the pipeline. The group currently has three properties on Vietnam's largest island, including La Veranda Resort Phu Quoc, MGallery by Sofitel, Novotel Phu Quoc and Premier Village Phu Quoc.
Premier Village Phu Quoc Resort is located at Ong Doi Cape, An Thoi town, in the southernmost part of Phu Quoc and is approximately 30 minute drive from Phu Quoc International Airport.  The island is a 50-minute flight from Ho Chi Minh City and a two-hour flight from Hanoi. For more information or reservations, please visit www.accorhotels.com/b2r4.
ABOUT ACCORHOTELS
AccorHotels is a world-leading travel & lifestyle group and digital innovator offering unique experiences in more than 4,300 hotels, resorts and residences across 100 different countries.
With an unrivaled portfolio of internationally renowned hotel brands encompassing the entire range from luxury to economy, from upscale to lifestyle and midscale brands, AccorHotels has been providing savoir-faire and expertise for more than 50 years.
In addition to its core hospitality business, AccorHotels has successfully expanded its range of services, becoming the world leader in luxury private residence rental with more than 10,000 stunning properties around the world. The Group is also active in the fields of concierge services, co-working, dining, events management and digital solutions.
Relying on its global team of more than 250,000 dedicated staff, AccorHotels is committed to fulfilling its primary mission: to make every guest Feel Welcome.  Guests have access to one of the world's most attractive hotel loyalty programs – Le Club AccorHotels. 
AccorHotels plays an active role in its local communities and is committed to promoting sustainable development and solidarity through PLANET 21 Acting Here, a comprehensive program that brings together employees, guests and partners to drive sustainable growth.
From 2008, the AccorHotels Solidarity Endowment Fund has acted as a natural extension of the Group's activities and values, helping to combat the social and financial exclusion experienced by the most disadvantaged members of society.
Accor SA is publicly listed on the Euronext Paris Stock Exchange (ISIN code: FR0000120404) and on the OTC Market (Ticker: ACRFY) in the United States.
For more information or to make a reservation, please visit accorhotels.group or accorhotels.com. Or join and follow us on Twitter and Facebook.
2