Jet Airways' service between Hong Kong & Amsterdam via Mumbai offers Europe-bound travellers more comfort and flexibility, discovers Nick Walton.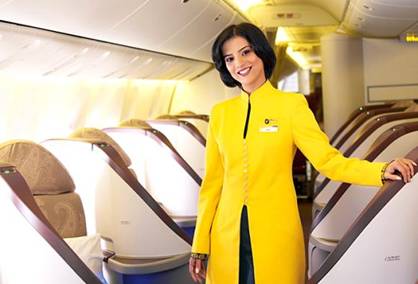 Pre-Flight
I checked my luggage through to Amsterdam at Hong Kong International Airport's Terminal 2, which offers an easier security process and a quick transfer to the Plaza Premium lounge near gate 40, access to which is offered to the airline's Premiere business class and First Class passengers. The lounge offers a refined and almost hidden space for business class passengers, far from the crowds of the main lounge area. Departure was from the new Midfield Concourse onto a Boeing 777-300ER with 8 seats in First Class, 30 in Premiere, and 308 in Economy.
Hong Kong-Mumbai
Jet Airways' crew, dressed in their sophisticated dark blue and vibrant yellow uniforms, welcomed us on board the first flight with hot towels and glasses of fruit juice (no alcohol service before take off, despite the 7.45pm departure). The modern, elegantly-appointed herringbone business cabin layout of the 777 was in a 1-2-1 configuration, with all-aisle-access seats in soothing cream and burgundy. The cabin was 3/4 full. These are among my favourite seats in the air; there's plenty of space, plenty of privacy, and easily-reached amenities galore. Each seat converts into a 185cm, 180-degree flat bed at the push of a button, and includes 90cm of space at shoulder level (when lying down) and 84cm at the hips. My window seat, 9A, was just behind the galley but maintained a sense of privacy and included electronic lumbar support, an ample service tray, independent air controls (which is a blessing when the interiors are hot), little pockets and shelves to store phones and adapters, in-seat power, and a 15.4-inch personal monitor, which gives travellers access to the airline's comprehensive Panasonic eX2 on-demand entertainment system.
Having taken drink and dinner orders before takeoff, crew were quick to commence the meal service once we reached cruising altitude, serving glasses of Billecart-Salmon Champagne and piping hot towels with smiles and an air of refinement. The airline offers a flexible Dine Anytime menu, ideally suited for night flights. This featured a green pea and mint soup, followed by the choice of Southern Indian Jhinga curry with prawns, tamarind and coconut; spicy honey glazed roast chicken with snap peas and egg noodles; Kadhai Paneer with capsicum, tomatoes and crushed coriander; and Mushroom Wellington with sautéed vegetables and a creamy carrot sauce. I matched the chicken, which was perfectly cooked and seasoned, with a glass of Cecelia Beretta Lugana from Italy. Jet Airways continue to offer truly elegant business class service – there's no trays and no meals served in economy-esque stackable bowls, but real China, real cutlery, and real, authentic hospitality. I skipped dessert – a choice of rasmalai cheese dumplings in condensed milk, or orange banana cake – deciding instead to make the most of the darkened cabin by watching one of the many recent release movies on offer, before grabbing some sleep, with thoughtful crew converting my seat into a comfortable bed with the addition of a seat cover and blanket while I changed.
I woke just over an hour before our scheduled arrival time in Mumbai and requested a nightcap but was told the bar was closed due to our "imminent arrival", which I thought was a little odd, as the crew confirmed it was more than 60 minutes before landing and such a request, at such a time, had never been an issue on previous Jet Airways flights. We began our descent into a rainy Mumbai and within 20 minutes of our arrival at the gate I had been guided through transit security and had arrived at the airline's chic new GVK Lounge, where I showered in preparation for my  journey on to Amsterdam.
The lounge is a brilliant new space but one that clearly sees a lot of traffic and finding a seat for my two hour transit stay took some time. The lounge boasts two standalone cocktail bars, an elegant dining room, plenty of lounge seating, and well-maintained shower facilities, which are brilliant for shaking off the weariness of travel mid-way through a journey. I had time for a glass of wine and a chat to the bartenders before I was being escorted on to my next flight.
Mumbai-Amsterdam
The boarding on to the Airbus A330-300 was slightly delayed but when I did board I was able to move from a centre seat to a single window seat at the 3/4 full cabin's rear. Cognizant of the late hour of the flight, crew quickly delivered guests Jet Airways sleeper suits and chilled towels (but oddly no amenity kits although the airline does stock them for night flights).
This A330-300's business class was a very different creature from that of the 777; with a scattered configuration to its 34 Vantage-style business seats, there were some window seats with double armrests and some with singles, some with seats beside them, and some without, in a product that's similar to those offered by Delta and Swiss. My seat, 8K, could be best described as a 'true' window seat, offering the closest proximity to the actual window. The seat, which has a pitch of 49-inches and a width of 21-inches, had great shoulder-level storage options that are easily accessible, but restrictive foot wells due to the shape of the seat in front. There's a sizable monitor built into the seat in front, and a large dining tray that slides out from below the monitor.
Before takeoff a fresh-eyed crew took orders; there were dishes available for travellers unencumbered by the late hour, but most simply ordered their breakfast, to be served two hours before arrival into Amsterdam. We were given the choice of an olive and pepper frittata with chicken mortadella, dill potatoes and creamed corn served in a tomato cup; chocolate waffles with stewed fruit and maple syrup; tomato and spinach upma with masala dosa and kanjivaram idli, semolina blended with spinach and tomato and served with spiced potato and steamed rice cakes; or gobhi mutter keema, minced cauliflower and green peas with onion, tomato and spices, served with pan-griddled Indian bread stuffed with spiced corn. I love the fact travellers can try more than token Indian dishes on Jet Airways, with at least half of all choices authentically Indian. I ordered the frittata with fresh juice and black coffee, accepted a glass of Montagny 1er Cru from Burgandy after takeoff, and within 20 minutes of reaching cruising altitude was fast asleep.
Consequently the flight into Europe was uneventful. Crew served the breakfast with a cheerfulness that was admirable and a professionalism I have come to expect from Jet Airways. The coffee was perfect, the frittata everything you could hope for at 37,000ft, and we arrived ahead of schedule into Amsterdam's bustling Schiphol Airport, refreshed for the day ahead.
Summary
Jet Airways' already legendary service remains a fundamental component to the airline's success on its direct services from Hong Kong to Mumbai and Delhi, as well as its new links into Europe through its new hub, Amsterdam.
1