Relish a power meal with a 'Cheetah' by your side
National, 29th May, 2017: Designed for the ambitious and adventurous, Vaya Life, a disruptive company presently in the home ware category, now introduces a brand new variant of tyffyns inspired by the 'Cheetah'. The feisty new variant is available in both 1000ml (3- container) and 600ml (2 -container) respectively. Widely known as the fastest mammal on land, the Cheetah symbolizes a combination of characteristics that best describe human nature in the competitive world of today. Log on to www.vaya.in.and grab hold of your very own 'Cheetah' today!
Revolutionizing the category, Vaya Life ensures that one can carry the warmth of a home-cooked meal absolutely hassle-free anywhere you go. The 'Cheetah' design is unique and extremely stylish and highlights innovative, technology and design that Vaya brings into a mundane functional product.
Cheetah adds to the already existing and exciting range of Vaya tyffyn, that include Graphite, Maple and Wool variants. These showcase a perfect combination of innovation and style, using simple science to ensure that food remains the way one wants to consume. A Vaya tyffyn ensures all the freshness of eating at home itself.
Commenting on the new variant launch, Vashist, Founder and CEO, Vaya Life, said "At Vaya, we endeavor to redefine consumer products that are close or personal in use. With the Cheetah launch, we are adding more excitement and fun to the lunchbox category. Good design need not always come in plastic, but also in safe and hygienic stainless steel. We plan to bring out newer and more exciting variants in the near future."
While the 1000 ml version is more suitable for everyday office goers, the compact 600 ml is more convenient for young executives, college students and school children. The 'Cheetah' can be purchased with or without a 'BagMat', which is a special smart shoulder carry bag that efficiently unzips in to a table mat. The 'BagMat' is water repellant and doesn't stain and adds to one's style quotient.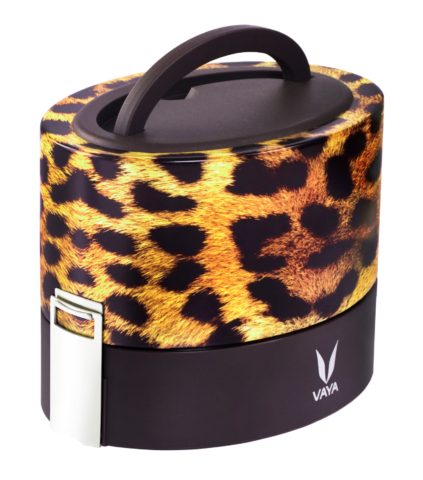 Vaya Tyffyn – Features:
VacuTherm technology – Double walled high vacuum insulated stainless steel cover shell, which traps the rising heat and helps retain the warmth. The stainless steel cover shell is also lined with copper coating
3- and 2- container , made of High quality copper finished stainless steel – that retain the freshness of the food as it is packed
Stainless steel side latches that puts positive pressure on the container lids thereby preventing any leakage
Double-shot container lids additionally help in preventing leakage of contents inside the container
Finger grooves on container lids for smooth opening of the containers, and prevent spillage while opening
Sleek and compact –  Vaya tyffyn can snuggle into any bag, and is easy to hold in one hand, similar to holding a laptop
The advantages of a Vaya Tyffyn:
Vaya Tyffyn with its proprietary VacuTherm technology, is designed to keep food hot even after four to six hours of packing, which means, at lunchtime, customers are sure to enjoy their meal, hot and fresh!
With this heat retention feature, one need not re-heat their food in a microwave, thus preventing the unwanted radiation effects, and you don't need to stand near a power socket to heat your lunchbox.
The product is leakage-resistant
World class design – Vaya Tyffyn comes in a sleek oval-shaped stainless steel body, with attractive graphic cover designs. With its BagMat, Vaya tyffyn adds to the style quotient.
Vaya tyffyn makes for a great gifting option which its recipients are sure to cherish and use every day. Not every gift is used on a daily basis by the recipient
BagMat Features:
Vaya BagMat unzips to become a full table mat in seconds, perfect for lunch on the go
BagMat has a layer of water-resistant coating that makes it easy to clean
Dimensions:
o          Height: 35 cms
o          Breadth: 27 cms
o          Weight: 230 grams
Services
o          Warranty: 1 Year
o          Shipping: Within 6-12 hours
o          Delivery: Within 5 to 7 days of shipping
Log on to www.vaya.in for more details and grab hold of your very own Vaya Tyffyn, today!
About Vaya Life:
Vaya Life Pvt. Ltd. aims to redefine the everyday as it embarks onto the revolution by offering an improved way to carry meals. It is the coming together of seasoned professionals from across the globe, driven by a visionary zeal to significantly improve people's lives. The company promises "life, improved" by redesigning everyday products that is integral part of routine. Vaya plans to excite its customers with more variants and innovative products. Founded by US based, Indian-origin technologist, Vashist, Vaya aspires to create products that enhance everyday living.