Aditya Birla Fashion and Retail marked a new milestone in the branded apparel sector as its Van Heusen Innerwear and Athleisure business announced its foray into the Rs. 16,000+ Cr Women's Innerwear & Athleisure market. The brand launched its Lingerie and Athleisure range in Bangalore.
Van Heusen Women's Innerwear includes innovative products such as No Slip Straps, Breathable, Flexi Wires and Side Smoothing styles.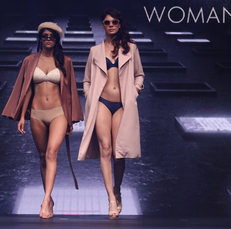 Van Heusen introduces the distinctive range of Lingerie and Athleisure, offering sophisticated styling with new and innovative product features for the best-in-class comfort and fit. Van Heusen's Lingerie range comprises of three collections including Cotton Sensation, Luxe and Glam. Each collection has been designed to offer a differentiated range to the various consumer segments.
After extensive consumer research, the business has attended to each customer's pain point that currently exists and hence each piece is designed with precision and perfection ensuring all-day comfort for the wearer. The fabric reflects the fashion brilliance of Van Heusen as the collection is crafted with a mix of high quality cotton, polyamides, modal etc. The straps, laces as well as elastics are of the most premium quality offering utmost comfort to the wearer.
The themes of the lingerie collections are inspired by the everyday elements of a woman, latest trends, and most importantly comfort & fit. The collection echoes the art of premium fashion with a mix of solid colors and prints.
Cotton Sensation – The classy wardrobe essential offering performance features like Colour Fresh, Ultra Fresh, Plush Back Straps & Perforated Cups for better breathability – The range starts from Rs. 499 onwards for Bras
Luxe – The range offers sophisticated styling and elevated comfort with premium fabrics & utility – The range starts from Rs. 899 onwards for Bras
Glam – Fashion innerwear with differentiated cups such as Spacer cups, Ultra-Light cups etc. that provide an elevated experience while wearing the product. – The range starts from Rs. 1049 onwards for Bras
Athleisure – Multi-purpose wear created for the Gym, the Brunch, the Street. Crafted with elevated fashion and new age fabric, it also comes with Smart-Tech+ feature that offers benefits like quick dry, stain release and anti-stat, making this a true cross over between fitness and fashion. The range starts from Rs. 499 onwards
Also introducing the Lounge collection that elevates the customer with garments that have Quick Dry, Easy Stretch & Colour Fresh performance features –The range starts from Rs. 449 onwards.