Among the families of pens created by Montegrappa to honour the most notable personages throughout history is Genio Creativo. Following pens inspired by and dedicated to Dalì, Gibran, Stradivari, Modigliani, Canova, Tchaikovsky and Tiziano is a limited edition acknowledging the contributions of watchmaker Bartolomeo Ferracina. For Montegrappa, the honour has an added meaning, as Ferracina was not only a son of the Veneto: he was born in the same area as the home to Montegrappa.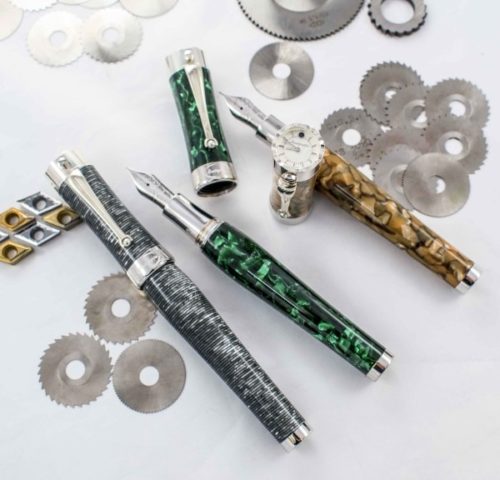 AVAILABLE FOR DEGREES OF WRITING
EF
F
M
B
BB
ST1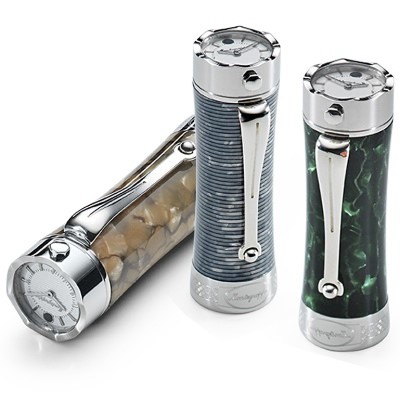 FEATURES
Material: celluloide, sterling silver
Nib: 18k gold
Packaging: premium
Filling system: piston
Watch movement: miyota-slim
Watch case: 16 mm

Bartolomeo Ferracina
At a time when fine watchmaking has been recognised as an art, as much as it is a skill, the great horological figures of the past are enjoying new-found respect. Among those who contributed to the development of the machines that tell us the time was Bartolomeo Ferracina, a watchmaker and engineer from Solagna, a little village adjacent to Bassano del Grappa.
While his projects involving hydraulics benefitted the municipalities in which he operated, it was his work with clocks for which Ferracina is celebrated. He produced models of many types and sizes, from pendulum clocks to those with automata, from table to tower clocks, including models with the indication of the lunar phases, the motion of the stars and the zodiac. He managed this even though limiting himself to applying existing knowledge, without having to invent any new mechanisms. His most notable contribution to the history of timekeeping was the reconstruction of the tower clock of Piazza San Marco in Venice, to the benefit of millions of tourists every year.
2