Experience the new collection at the 2018 Consumer Electronics Show, January 9-12, Voxx Accessories Corporation, Central Hall 13506
Las Vegas – Booth #13506 – January 9, 2018 – 808 Audio, one of the fastest growing and top performing audio brands, unveils the newest wireless audio additions to their collection. Available in 2018, the new products feature top-of-the-line audio technology and stylish designs to fit any lifestyle, and earn 808 Audio a place of prominence within the smart home voice assistant race. Whether running a marathon or ordering a pizza with Alexa, 808 Audio has something for every endeavor. Developed by 808 Audio, the collection continues to provide incredible performance with contemporary designs that everyone can afford.
"808 Audio continues to broaden its collection this year, advancing further into smart home technology with improved audio quality and functionality," said Ian Geise, President of 808 Audio. "We've improved upon our past collection with new high-quality, stylish solutions to their audio and smart home needs, at a price that is hard to match."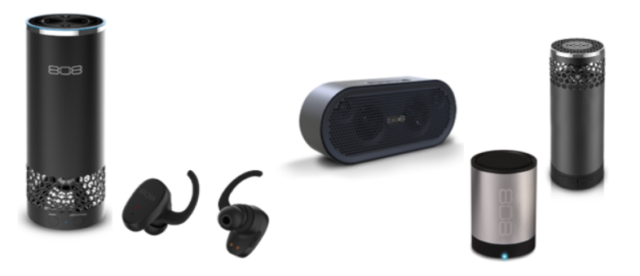 808 Audio SL-V
Headlining the 2018 line-up is the 808 SL-V. After the critical success of their first smart home venture last year, with the XL-V, 808 Audio will release their next installment of Alexa-enabled speakers. The SL-V comes encased in the sleek aluminum cabinet that consumers have come to know and love. The speaker provides high-powered audio that fills the room with 360-degree sound. Relying on its bass chamber, the speaker delivers enhanced output for deeper sound, without distortion, for a rich and full experience offering deep bass and clear high notes. The SL-V includes Amazon Alexa Voice Service, a cloud-based voice service to provide full-range home assistance within a smart home capacity. Whether turning on the lights, turning down the thermostat, or turning up the volume on their favorite music streaming playlist, the SL-V has consumers covered. With multi-room capabilities, users can pair additional speakers for a synchronized experience at a price that can't be beat.
808 Audio Ear Canz TRU Sport and 808 Audio Ear Canz TRU2
808 Audio grows their collection of wireless Ear Canz TRU earbuds in 2018 with the new Ear Canz TRU Sport and the Ear Canz TRU2. Enjoy an active lifestyle with fully portable true wireless Bluetooth earbuds that adapt to any adventure. Both, the Ear Canz TRU2 and the Ear Canz TRU Sport, maintain an ergonomic design and are water resistant. A built-in mic allows for hands free calling, best-in-class noise isolation and comfort that enhances the listening experience. The Ear Canz TRU Sport are designed for fierce training and boast a lightweight design, with custom flex ear hooks that form to your perfect fit and extend any workout with 6 hours of playtime. Ear Canz TRU2 come with customizable ear tips and fins for incredible comfort and noise suppression, and a compact, convenient charging case that can recharge the Ear Canz TRU2  more than three times.
808 Audio TXS, Canz2, and HEXSL2
Enjoy music wirelessly with the other additions to the 808 Audio product line this year. The Canz2    is a revamp of the original Canz, which started the 808 Audio brand. The new speaker is updated with micro-USB charging and comes in four colors in an anodized aluminum casing. The speakers are equipped with precision tuning for dynamic sound that moves with consumers. Both the HEXSL2 and the TXS wireless speakers have Siri and Google Now capabilities, and come with a built-in mic for full phone functionality. Enjoy a full range of 360-degree sound with the HEXSL2, presented with EQ bass boost and up to 12 hours of playtime. The TXS wireless speaker is a massive 20-watt Bluetooth-enabled system that allows for control of tracks and volume directly from the speaker.
The new products will be available Spring 2018. Media attending the 2018 Consumer Electronics Show can demo them at Voxx Accessories Corporation, Central Hall 13506. For more information, go to 808audio.com or contact nicolebrandfon@maxborgesagency.com
About 808 Audio:
Started in 2011 from the roots of hip hop and EDM, 808 Audio offers great audio performance at affordable prices, in unique designs that speak to these music communities. It has since grown to become one of the leading brands in headphones and Bluetooth wireless speakers. 808 Audio is one of many top tier brands owned by Voxx International Corporation (NASDAQ: VOXX).