The Campaign highlights Myntra as the ubiquitous destination for International Fashion in India
Bengaluru, April 1st, 2016: Myntra, India's leading platform for fashion brands & pioneer in m-commerce play, announces the launch of a new International Brand campaign called '#JustArrived'. The campaign is aimed at showcasing Myntra as the go-to destination for the latest in global fashion from top international brands. Already known for being a 'house of best fashion brands', Myntra has further strengthened its portfolio by adding 25+ iconic international brands with over 11000 unique styles, available over the last 15 months.
The television commercial with a 30 & 45 second duration, demonstrates style and fashion of top international brands by using a metaphorical Myntra airport setting where passengers (symbolic of the brands) have #JustArrived and are getting checked, stamped and welcomed warmly on the Myntra platform. The visuals are tantamount to a fashion show of the latest trends and collection of apparel, footwear and accessories, at the airport. The TVC is directed by SachinKhotre, produced by Asylum Films and conceptualized by Happy Creative Services.
Links to TVC videos:  #JustArrived 45 sec – http://bit.ly/1WZxfiU, 30 sec – http://bit.ly/1Y1NAUk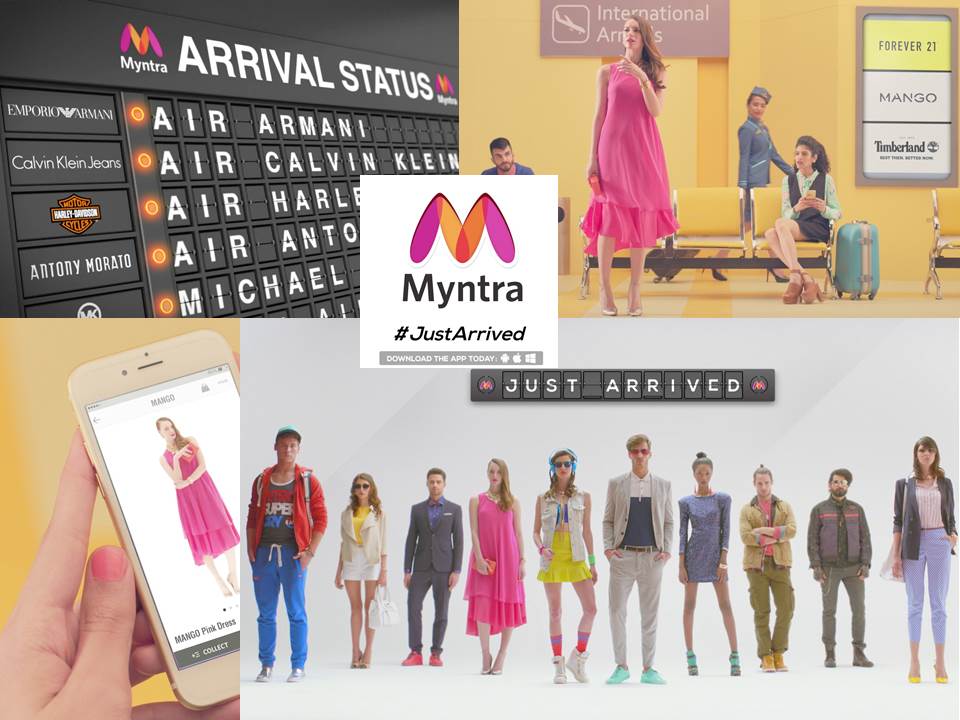 While most International brands are focused on Metros, there is a growing awareness & demand for international brands, not only from top cities but also from Tier II and III cities. However access to these brands continues to be a constraint.Currently, over 50% of revenue for international brands at Myntra comes from Tier II & III cities. Understanding the growing aspirations of Indians today, Myntra has been at the forefront of working with International Brands to help them launch, grow and become more accessible to the masses.
Commenting on the launch of campaign, GunjanSoni, CMO & Head of International Brands, Myntra said, "Myntra has over 8Mn fashion shoppers, who see us as a destination of choice for their favorite brands. By adding a wide range of International brands, we have further strengthened our Fashion leadership. With this campaign, we now want to bring the best of international fashion to the doorstep of every aspiring Indian, going beyond just the metros, and showcase our carefully curated International selection."
Recent additions have been iconic global brands such as M&S, Forever 21, Timberland & Jeep among others, being retailed online exclusively through Myntra platform. The company expects International Brands to account for 15 per cent of its revenues in the next 12-18 months as it adds more global labels to its portfolio which currently includes Ferrari, Harley Davidson, Cole Haan, DKNY, The North Face, Mango, Tommy Hilfiger and CK, to name a few.
A four week campaign, the TVC will be aired extensively across 25+ TV channels, spanning Hindi GEC, Hindi Movies, English Entertainment, English Movies, Youth & Music Channels, and English News Channels. The campaign will also be promoted in outdoor mediums in Delhi, Mumbai and Bangalore starting 4th April and through brand's digital platforms.
About Myntra:
Myntra is India's leading platform for fashion brands and pioneer in m-commerce play. Myntra has partnered with over 2000 leading fashion and lifestyle brands in the country such as Nike, adidas, Puma, Levis, Wrangler, Arrow, Jealous 21, Diesel, CAT, Harley Davidson, Ferrari, Timberland, US Polo, FabIndia, Biba and many more to offer a wide range in latest branded fashion and lifestyle wear. Myntra services over 19,000 pin codes across the country. With the largest in-season product catalogue, 100% authentic products, Cash on Delivery and 30-day Exchange/Return policy, Myntra is today the preferred shopping destination in India.