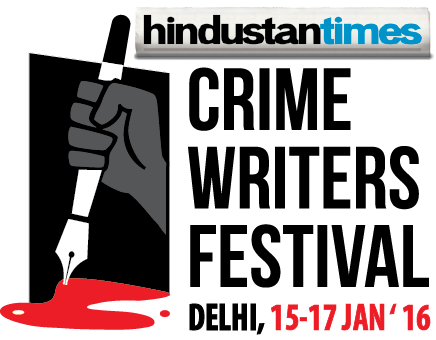 Attention! Operative.
Before you step into this operation, it is critical that you are made aware of your targets and mission.
Remember—every subject of this report is a specialist in their field.
Your role is clear: Surveillance, infiltration and capture.
Namita Gokhale and Lady Kishwar Desai are the festival directors, with Alka Pande as creative director, and Priti Paul and Ashwin Sanghi are festival advisers.
Aditi Maheshwari: Director, Translation and Copyrights, Vani Prakashan
Amit Khan: Scriptwriter, filmmaker and widely-followed pulp author of over ninety Hindi novels, fifty comics and three short story collections.
Anurag Kashyap: Face of new-wave Indian cinema, acclaimed for his crime drama films like Black Friday and Gangs of Wasseypur.
Avirook Sen: Journalist and author of Aarushi, credited for bringing the case back in the news.
Dom Hastings: Director of Bloody Scotland, Scotland's International Crime Writing Festival
Jerry Pinto: Journalist, editor and author of children's and crime fiction, including the upcoming Murder in Mahim and Other Mysteries.
Karuna Nundy: Leading Indian Supreme Court advocate and International lawyer who has argued cases and for policy to do with free speech, terrorism, anti-rape laws, and the criminal justice system.
Kathryn Harkup: Chemist, science communicator, author of A is for Arsenic, and expert on the Agatha Christie's deadly poisons.
Kaushik Bhaumik: JNU professor and crime film expert.
Lady Kishwar Desai: Festival Director, Crime Writers Festival, crime author, journalist and columnist.
Liad Shoham: Israeli attorney and critically acclaimed, best-selling legal thriller writer. His books are realistic depictions of Israel's criminal justice system.
Niharika Karanjawala: Criminal lawyer who has worked on the Aarushi Talwar double murder case.
Piergiorgio Pulixi: Author of detective noir The Night of the Panthers and member of Massimo Carlotto's crime writing collective, Sabot.
Piyush Jha: Film director, ad filmmaker, crime fiction author whose upcoming book Raakshas: India's #1 Serial Killer is a psychological thriller.
Poonam Saxena: Journalist, translator and Editor, Sunday Brunch, Hindustan Times
Ravi Singh: Publisher, Speaking Tiger Books
Ravi Subramanian: Author, but banker by profession. Celebrated banker and author of an award-winning trilogy on financial and corporate crime. His new book The Bestseller She Wrote, explores relationship-based crimes of passion.
RV Raman: Business strategy professor at an IIM, author of corporate crime thriller Fraudster.
Sandeep Unnithan: Deputy Editor for India Today magazine, where he writes on defence and security issues, and author of Black Tornado
Sheela Raval: Investigative journalist with ABP news. Political commentator, business analyst and author of Godfathers of Crime: Face-to-face with India's Most Wanted.
Shovon Chowdhury: Humourist and author of detective story Murder with Bengali Characteristics.
Veronique Ovalde: French writer who explores crime through the lens of human relationships, interactions and dynamics, featuring dysfunctional characters and the complexities of modern society.
Vivek Agrawal: Noted crime journalist known for his 26/11 coverage. Currently working on a trilogy about the Mafia in South Asia—the first of which will portray the mafia scene in India; reportedly, with information that has never been seen or heard of before.
Zac O'Yeah: Travel and crime fiction writer based in India. His fourteenth novel titled Hari, A Hero for Hire released recently.
The information given above signifies the scale of this covert operation. Prepare yourselves to invade and overthrow.
Register now at www.crimewritersfestival.com to join the mission. Registration is free and open to all.
1