Bangalore, September 24, 2015: Highlighting the steady growth and rapid evolution of Indian BPM industry leading to key transformations for its customers, the National Association of Software and Services Companies (NASSCOM) today kick-started the two-day NASSCOM BPM Strategy Summit 2015 in Bangalore. The summit served as a platform for delegates and industry leaders and experts to  synergize their efforts to evolve the dynamic BPM landscape, enabling it to deal with ever changing global business trends.
NASSCOM also launched the findings of its CEO Survey on Strategic Priorities for Indian BPM Leaders which focusses on how industry leaders are looking at the future. The survey highlights multiple strategies to stay ahead of the curve and move from being a service provider to strategic partner to their customers. The finding recommends leaders to be more customer-focused and become solution experts driving digital transformations driving specific high-impact outcomes.
Speaking at the occasion, Mr. K S Viswanathan, Vice President – Industry Initiatives, NASSCOM, said, "The industry has continued on its path of sustained growth and has evolved in accordance with the changing international trends. Indian BPM players have transformed their approach by evolving into strategic partners driving end-to-end processes and outcomes for clients across the globe, spanning myriad industries. The services being offered by industry players have therefore kept the end-customer as the pivot of every solution being delivered."
Mr. Keshav Murugesh, Group CEO, WNS and Chairman, NASSCOM BPM Council, said, "This has been an important and exciting phase for the BPM industry in India. Going forward, we will continue to strengthen our domain expertise and align with disruptive trends more closely with our focused investments in high-end technology and analytics. One of the key imperatives of this summit is to showcase skills and careers in the BPM industry, while changing career perceptions about the industry. In this light, we are announcing a pan India high-voltage campaign called BECOME WORLD WORTHY, showcasing the specialist careers that this industry can offer, and the myriad options available for talent of every kind."
Further, to ensure that India is ready to meet the projected year-on-year growth of 11-12%% in BPM exports, it is imperative that a talent pipeline is also ready to meet the growing demand required from industry in the future. In order to meet the growing demand for skilled people, IT-ITeS Sector Skills Council NASSCOM (SSC NASSCOM), has created a courseware for 'Transactional F&A' in the Finance and Accounting occupation in the BPM industry. The courseware includes a Facilitator Guide and Student Handbook which outlines the pedagogical approach and learning methodologies that aims to empower students with the requisite competencies in this Qualification Pack (QP) / job role. This is a collective effort from the key BPM companies.
Dr. Sandhya Chintala, Vice President, NASSCOM and Executive Director SSC NASSCOM said, "The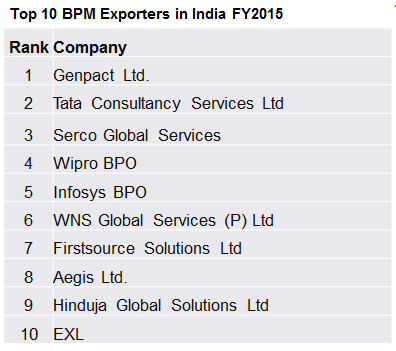 'Transactional F&A' courseware is aimed at developing the capability of both the faculty and the students. The competency that will be enabled will facilitate a skilled and job-ready ecosystem for the F&A occupation. SSC NASSCOM as a Board of Certification for Qualification Packs will assess the competency of students and certify them on these transnational skills, offering a currency of global mobility. "
NASSCOM also announced the top 10 BPM exporters in India for the year 2015. The list is topped by Genpact Ltd. followed by Tata Consultancy Services Ltd. and Serco Global Services in the second and third position respectively.
With reported revenues of USD 27 billion in FY 2015, the BPM industry continues to grow and evolve, through the emergence of new markets and verticals leading to exponential growth of the segment. The focus this year was on the ever growing knowledge segment as well as an increase in financial services centers and Customer Interaction Services (CIS). Major BPM firms also focused on transforming business processes through the use of new technology thereby leading to the creation of newer business models and services.
About NASSCOM
NASSCOM® is the premier trade body and the chamber of commerce of the IT-BPM industry in India. NASSCOM is a global trade body with more than 1800 members, which include both Indian and multinational companies that have a presence in India. NASSCOM's member and associate member companies are broadly in the business of software development, software services, software products, consulting services, BPM, e-commerce and web services, engineering services and animation and gaming. NASSCOM's membership base constitutes over 95% of the industry revenues in India and employs about 3 million professionals.