World of Women Film Fair Middle East to open at VOX Cinemas, Dubai on March 7th & 8th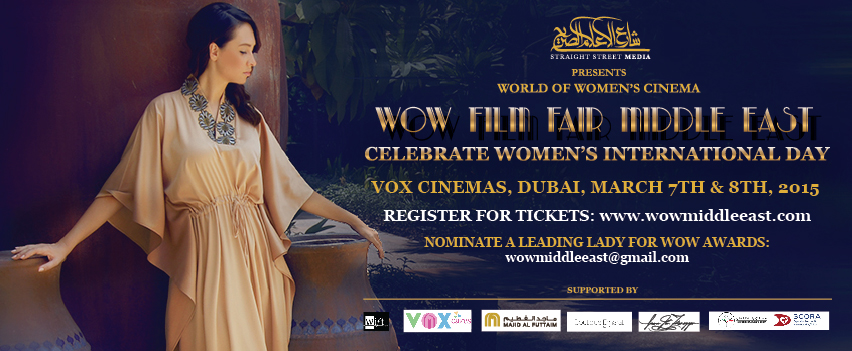 The first of its kind, World of Women's Film Fair Middle East will open in Dubai on March 7th & 8th – International Women's Day, at VOX cinemas to celebrate women in the film and arts.
WOW Film Fair Middle East will highlight the diversity of independent filmmaking by women as well as various types of storytelling by directors across the globe. Established by the Women in Film & Television NSW, the Middle East event is curated by Straight Street Media; a UAE based global media company, established by leading Australian TV news Anchor and Author, Hermoine Macura and VOX Cinemas.
"Women are changing the face of society which is why I am delighted to launch the second edition of our Women's Film Fair in the Middle East on International Women's Day – I hope it creates further communication and dialogue, while also offering a unique platform for the community to get together and discuss hot topics that effect our society." Says Macura.
As the first ever International Women's Film Fair in the Arab world, WOW Middle East aims to share information and highlight the growing number of films made about women and by women. This years themes include health, gender issues and cultural diversity. "We have films from Australia, Syria and the UAE.  This year will focus on health awareness including a special talk on Breast cancer with leading Emirati Breast surgeon, Dr. Houriya Kazim."
Managing Partners VOX Cinema's Rami Alloush adds: " This Fair is free to the public and is just a taste of what we will be developing not only in Dubai but also in Egypt and Lebanon to help promote leading women achievers in film as well as in society."
The free event will feature an array of drama, fiction, non-fiction, features and shorts as well as special Awards ceremony that will recognize 5 leading women nominated for their excellence in various fields. A majority of the films that will be screened will be debuting in the Arab world including some by Arab Directors.
"International Women's Day began in 1908, when 15,000 women marched through New York City demanding shorter work hours, better pay and the right to vote. A little over 100 years later, International Women's Day is celebrated all over the world as a day to advance women across all sectors as well as defend their right to equality and freedom – this fair celebrates women and advances the cause through the medium of film and communicating issues that are important to women in this region."
To register for tickets, enter competitions or to nominate someone you believe deserves to win a WOW award, visit: www.wowmiddleeast.com
The WOW Film Fair Middle East debuts on March 7th and 8th, 2015 at VOX cinemas.  Register for tickets: www.wowmiddleeast.com