Shri Somnath Chatterjee , Former Hon'ble Speaker of Lok Sabha Inaugurated the 14th National Conference of Practising Company Secretaries, on the theme "Integrating Growth, Governance and Challenges Beyond" at Kolkata today.
In his Inaugural Address, Shri Somnath Chatterjee, congratulated the ICSI on selecting the theme and sub-themes of the Conference. He said that Company Secretaries have been recognised for appointment to various posts in government departments. Company Secretaries are important contributors to the national wheel, he added. He apprised the participants of the multifarious challenges being faced by the country today and the need for company secretaries to adopt strategies for combating the same and ensure balanced development of the Indian economy.
The nation as a whole should deal with the problems of poverty, unemployment and under-employment, and in doing so ethics and morality would be the guiding principles, he added.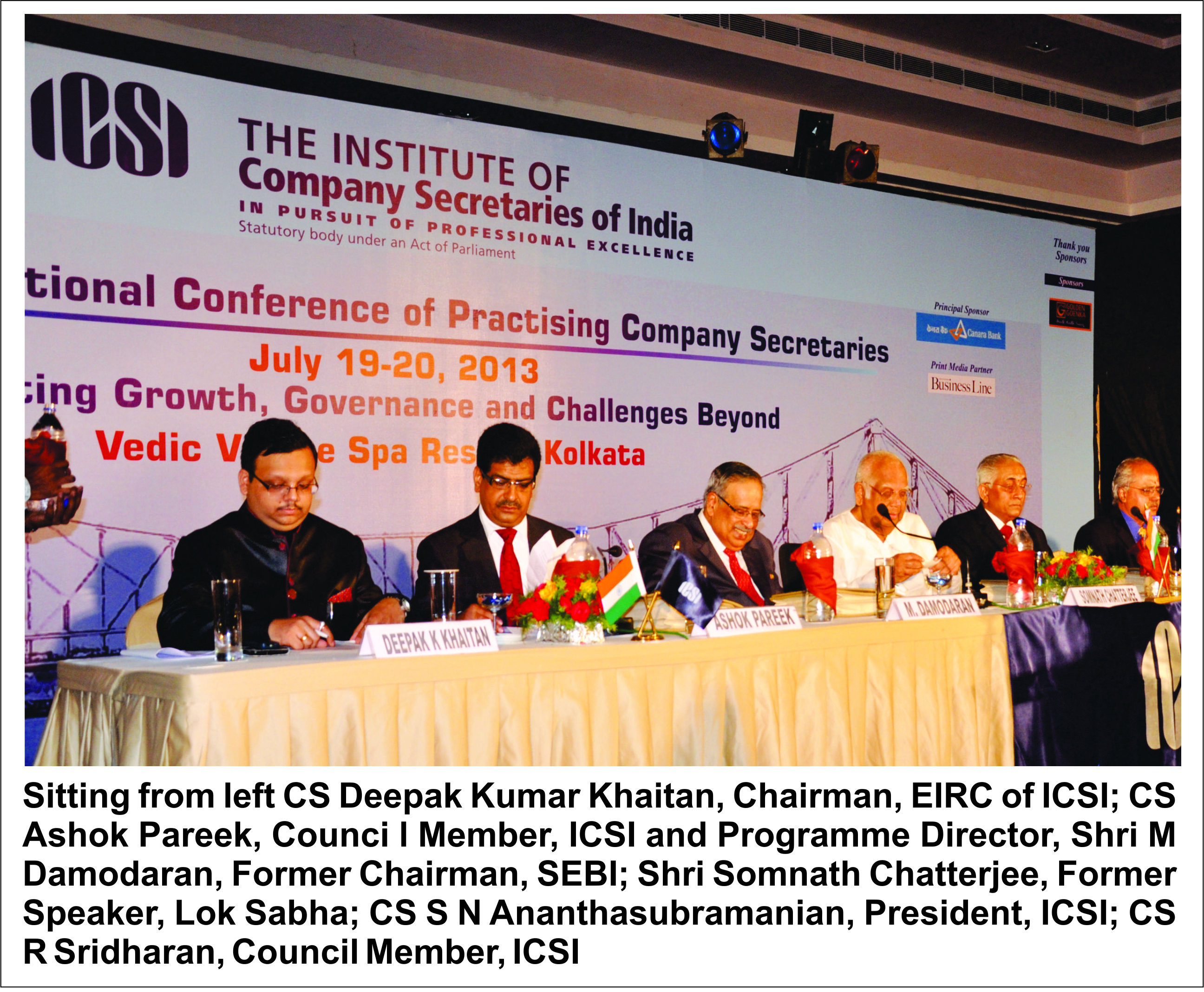 Shri M. Damodaran, Former Chairman of Securities and Exchange Board of India (SEBI) in his Key Note Address said that Company Secretaries are the custodians of the faith, in whose heart the best interests of stakeholders reside.

He said that now is the time to shift the focus from corporate governance to governance of the country. He said that the books on Corporate Governance make us believe that corporate governance was the gift of the western world to the developed nations, but, long before the Adrian Committee, Mahatma Gandhi made a statement that, "Businesses are trusts and businessmen are trustees". Which clearly brings the Indian belief in Corporate Governance. He said that the companies must be run in a manner in which the interests of the stakeholders can be safeguarded to the best.
He added that colonisation of territory can be dealt with, but colonisation of mind is much more difficult to deal with. We have paid the price of adopting the models which have failed overseas. We are now prisoners of process. We believe that compliance is governance. There is a need to look beyond the tick box exercise. Company Secretaries have the duty to work in the best interests of the stakeholders.
The need of governance is better regulation and not more regulations. Better enforcement of laws is the need of the hour. India has a huge youth power and we as company secretaries  need to rise to the occasion and work beyond the prescriptions under the Companies Act, and lead the corporate sector towards adoption of good governance practices for overall growth of the nation, he added.
CS S.N. Ananthasubramanian , President ,Council of the ICSI, in his Special Address expressed that, "Global economies are witnessing a sea change in the economic, political and technological environment. Financial deregulation and liberalization of both trade and capital markets have removed many barriers within and across countries, allowing firms to pursue business opportunities worldwide. Globalization is shaping a new system of international economic relations – be it in the fields of investment, production, trade, finance or technology".