02 October 2016
at 12.30 p.m. at Taj Bengal, Kolkata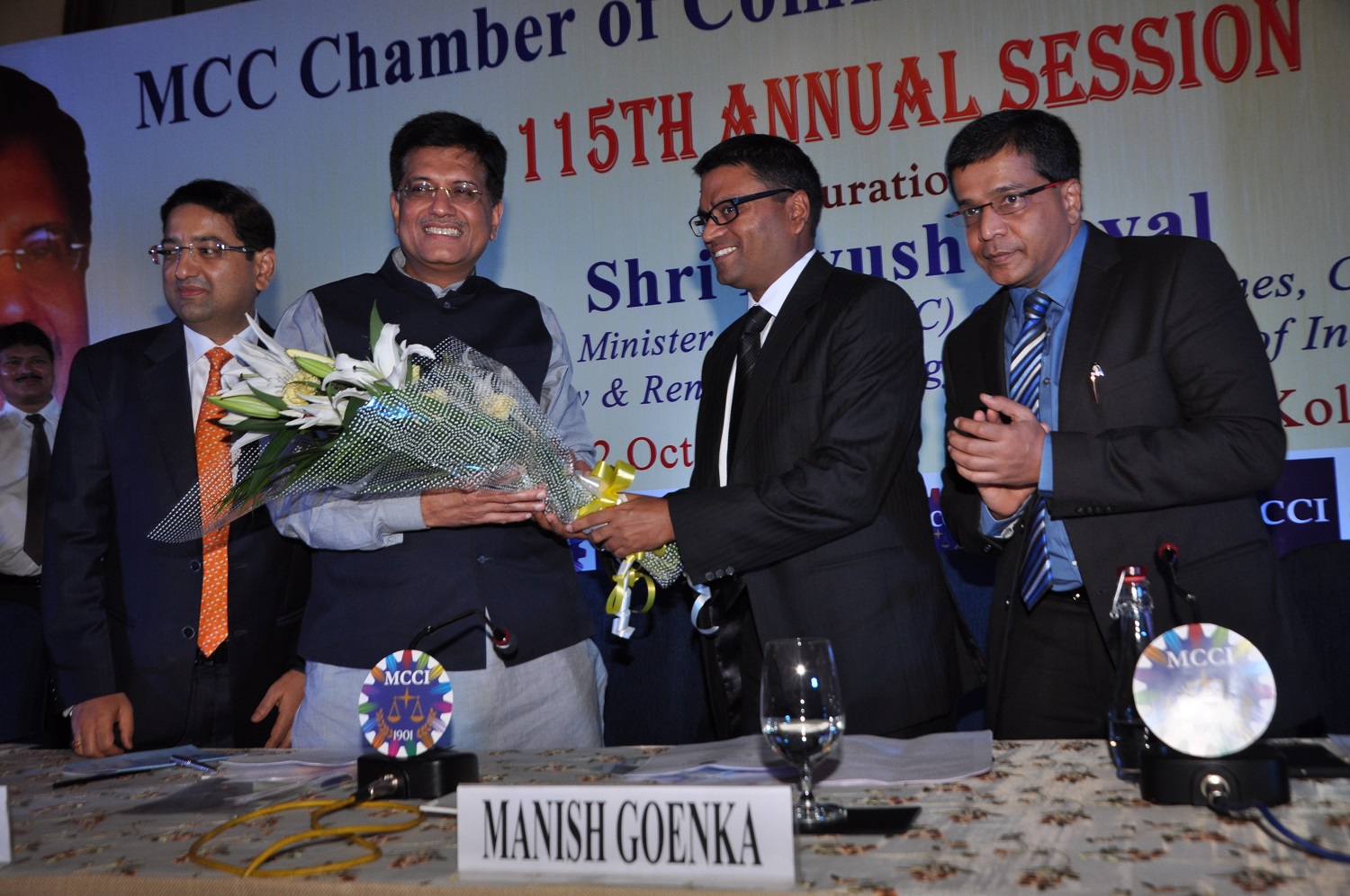 The 115th Annual Session of the Chamber was held with Shri Piyush Goyal, Hon'ble Minister of State (Independent Charge) for Power, Mines, Coal and New & Renewable Energy Sources, Government of India today.
"MCCI is one the greatest Chambers in the country in terms of depth of leadership", said the Hon'ble Minister, addressing the members. He stressed on Modiji's concept of importance of sustainable and inclusive development of the economy covering even the poorest of the poor.
The Hon'ble Minister charted out the importance of having 1,75,000 Mw of Renewable energy by 2022. He spoke on the commitment to control carbon content on the one hand and ensuring 40% of installed capacity through renewable energy by 2030, on the other.
Shri Goyal urged on the use of barren and fallow land for use of renewable power plants and felt that the land owners of such land should come forward for such projects.
Dwelling on the perspective on Swachh Bharat Mission initiated by the Prime Minister 2 years back on the Mahatma Gandhi's birthday, Shri Goyal urged MCCI to take a prominent role in mobilizing the Swachhagraha Pledge amongst its members and the business community in general. He urged all to take this forward using social media.
The Hon'ble Minister was of the opinion that the concepts of National Manufacturing Policy, Energy Security & Energy Independence were absolutely in sync with the Satyagraha Mission of Bapuji. He also drew reference to 100th birthday of Deen Dayal Upadhayay and Antyodaya Mission concerning financial and other inclusion of the poorest of the poor. He also referred to solar energy driven charkha for indigenous industries.
He spoke strongly about the growth potential of west Bengal and assured all help and support to its development process.
Earlier, in his Presidential Address, Shri Manish Goenka spoke about the robust Indian macro-economic parameters against the background of sluggish global growth. He particularly mentioned about newly constituted Monetary Policy Committee (MPC) for monetary policy-making, National Manufacturing Policy as the most comprehensive and significant policy initiative, Ujwal DISCOM Assurance Yojana (UDAY) bonds to turn around state discoms, supply & demand bottlenecks of coal sector, renewable clean and green energy forming the backbone for India's 'energy security' and 'energy independence' as envisaged by 2020 as also of growth parameters of industry friendly West Bengal.
The Session ended with a hearty Vote of Thanks by Shri Hemant Bangur, Senior Vice President & President–Elect of the Chamber, who assured construction of 10,000 toilets in rural areas, in true salute to Bapuji on his birthday.
1