~Introduces New Dual-Band Wi-Fi Range Extender Ideal for HD video streaming & gaming~
New Delhi; February 17, 2016: NETGEAR (www.netgear.com), a leading global provider of consumer and business networking products, announced its new AC1200 Wi-Fi range extender EX6120 with streaming speeds up to 1200Mbps. in India.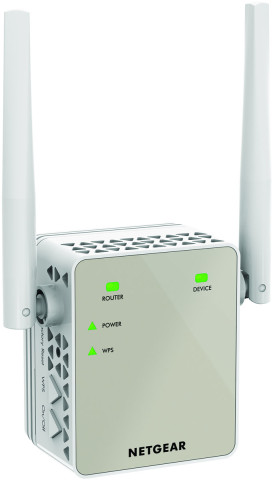 NETGEAR EX6120 enables consumers to expand and improve Wi-Fi signals throughout their home. NETGEAR EX6120'shigh-powered amplifiers eradicates "dead zones" and provides maximum Wi-Fi performance with the help of high-power external antennas, keeping iPads®, smart phones, laptops &more connected as consumers move about their home.
NETGEAR EX6120feature 802.11ac technology, which makes simultaneous use of dual 5GHz and 2.4GHz & reduce interference. Dual-band technology enables users to keep low-bandwidth everyday jobs like sending e-mail and Web browsing on a different channel than more intensive ones such as online gaming or HD streaming video.
Key Features:
Improves the range of your existing standard WiFi network.
External Antennas for better WiFi coverage.
Ethernet Port to connect a wired device like a game console or a smart TV to your WiFi network.
Dual Band WiFi Extends to 2.4 & 5GHz WiFi up to 1200 Mbps& reduce interference.
"Range extenders are a fast growing segment for NETGEAR as more and more customers are choosing it due to the great convenience it offers in enhancing existing home networks. With the Ex6120 NETGEAR brings the new high speed 802.11 AC standard to range extenders, enabling customers to experience greater range and high speed connections at home ." said Subhodeep Bhattacharya, Regional Director, India & SAARC, NETGEAR.
Pricing and Availability
NETGEAR AC1200 WiFi Range Extender (EX6120) would be available in India through authorized NETGEAR partners and other reseller channelsby the 1st week of March. It has an MRP of INR INR 5,500 with a Warranty of 2 Years.
About NETGEAR, Inc
NETGEAR (NASDAQ:NTGR) is a global networking company that delivers innovative products to consumers, businesses and service providers. For consumers, the company makes high performance, dependable and easy to use home networking, storage and digital media products to connect people with the Internet and their content and devices. For businesses, NETGEAR provides networking, storage and security solutions without the cost and complexity of big IT. The company also supplies top service providers with retail-proven, mobile broadband solutions for their customers on the go. NETGEAR products are built on a variety of proven technologies such as wireless, Ethernet and Powerline, with a focus on reliability and ease-of-use. NETGEAR products are sold in approximately 44,000 retail locations around the globe, and through approximately 37,000 value-added resellers. The company's headquarters are in San Jose, Calif., with additional offices in over 25 countries. NETGEAR is an ENERGY STAR® partner.