New Cintiq 13HD touch combines multi-touch with Wacom's renowned pen performance for a liberating and immersive digital creative experience.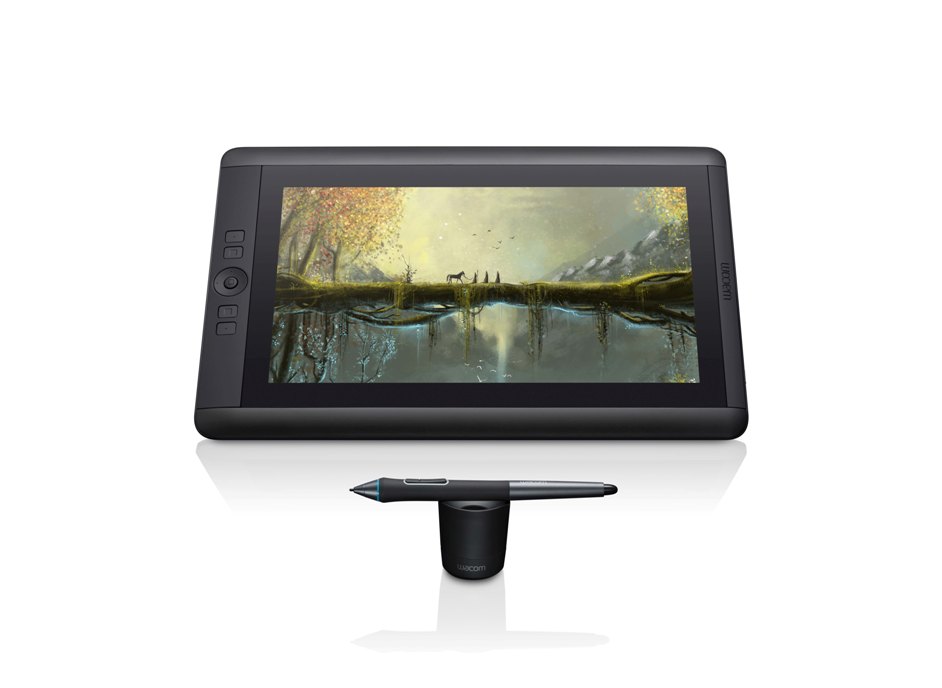 Wacom today announces the Cintiq 13HD touch for discerning professional creators of digital content. The latest addition to its lineup of creative pen displays, the Cintiq 13HD touch is designed to offer a natural pen and touch experience to designers, artists and image editors. Wacom's innovative creative pen display offers characteristic touch and pen capabilities, providing  a digital workflow that emulates drawing or painting on paper or canvas.
The Cintiq 13HD touch's compact, slim and sophisticated design can be easily connected to both Mac and PC computers.  For complete comfort, whether positioning it on the desk or on a lap, the Cintiq 13HD touch's adjustable stand is optimised for use in a choice of four settings – flat, 22°, 35° and 50°.
HD Quality Screen
Perfect for professional artists, graphic designers and photographers, the Cintiq 13HD touch's brilliant screen displays 16.7 million colours to ensure crisp colour quality.  In addition, the wide-format HD LED display's 178° viewing angle and 1920×1080 resolution are particularly beneficial to those working with intricate graphics or images.
Touch of Class
While the Pro Pen, offering 2048 levels of pressure sensitivity as well as tilt recognition, drives the overall creative experience on the Cintiq 13HD touch, it is the newly added multi-touch integration that allows the user to navigate the desktop or rotate and zoom in and out of an image or illustration in a liberating and intutive fashion. By combining pen and touch, users discover a virtually seamless workflow that feels natural and speeds production.
To further improve workflow and productivity, frequently used shortcut commands are available at the user's fingertips through the Cintiq 13HD touch's four customisable and application-specific ExpressKeys™ and Rocker Ring.  Making use of these shortcuts can save valuable time by minimising dependency on the keyboard.
With the proven Cintiq 13HD, Cintiq 22HD, Cintiq 22HD touch, Cintiq 27QHD, Cintiq 27QHD touch and Cintiq Companion 2 already in service, Wacom's Cintiq 13HD touch is a valuable addition to its pen display portfolio, which increasingly supports a variety of workflow requirements and budgets.
Pricing and Availability
The new Cintiq 13HD touch is priced at $999.95 (USD) and is scheduled to be available in early March at Wacom's eStore and other selected retailers.