New Delhi, 14th January, 2019: V-Guard has received the prestigious QCFI-JUSE Certification for its 5S Workplace Management and becomes the first among the Wire & Cable manufacturers in India to achieve this distinctive status. The company's Wires & Cables Plant at Coimbatore received this certification in a gala ceremony held at IITM-Gwalior recently.
Prior to this, V-Guard had received QCFI Certification for 5S Work place Management in February 2018, which entitled the company to apply for the JUSE certification.
JUSE commonly known as Union of Japanese Scientists and Engineers is an internationally acclaimed institution under Ministry of Science & Technology of the Japanese Government. It is also the custodian of the renowned DEMING PRIZE.
V-Guard's strongfocus on manufacturing excellence hasled the Wires & Cables Division team to install the best 5S work place management practices to gain higher levels of productivity and quality for enhanced level of customer satisfaction.
This recognition also adds to the glory of V-Guard's manufacturing efficiency which is the result of inculcating core operating principles to deliver best quality products with excellent service to the consumers, making them the top most priority.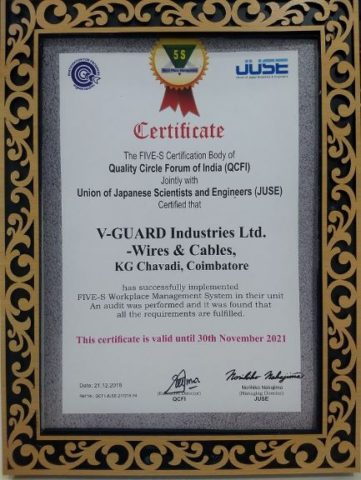 About V-Guard Industries Limited:

V-Guard Industries Limited is one of India's leading consumer electrical and electronics company. Incepted in 1977 by Mr. Kochouseph Chittilappilly to manufacture and market Voltage stabilizers, V-Guard is now a force to reckon with in the Indian electrical and electronics goods panorama. The company has established a strong brand name and aggressively diversified to become a multi-product company catering to the Light Electricals sector manufacturing Voltage stabilizers, Inverters, Pumps, House wiring cables, Electric water heaters, Fans, Solar water heaters, Kitchen Appliances and has also recently forayed into Air Cooler & Modular Switches. In an endeavor to reach every nook and corner of the country, V-Guard is armed with an expansive network of over 500 distributors, 200 service centers, 5500 direct dealers and 20,000 retailers and a committed after sales team. Under the leadership of Mr. Mithun Chittilappilly, Managing Director, V-Guard will continue to create thoughtfully engineered products in its endeavor to enrich consumer lives.
For more details visit https://www.vguard.in/