New Delhi, 13 Dec 2017: Today, Truecaller released their annual 'Year in Calling' statistics that give a dive into the rise of spam calls throughout the year in different parts of the world.
The 'Year in Calling' report has anonymously aggregated data from the app's most popular features showcasing how the app has saved millions of users from spammers, and even has fun facts like what countries are the most talkative and what are not. Truecaller says over 10 billion calls (up 5x compared to last year) were made using the app since the beginning of the year, and over 40 million unique spam numbers were identified by Truecaller users.
In comparison to their 2016 report, Truecaller has added their newest feature, SMS messaging. Launched in April, Truecaller's SMS app has added an an extra sense of protection from known spammers that plague phones with unnecessary advertisements, scams, or harassment. The unique features of the SMS app filter junk SMS into a separate folder for the user to quickly switch back and forth if they want to view how many spam messages Truecaller identified. Since launch, Truecaller users has sent over 639 million SMS, and has helped its users to identify and block over 3 billion spam SMS.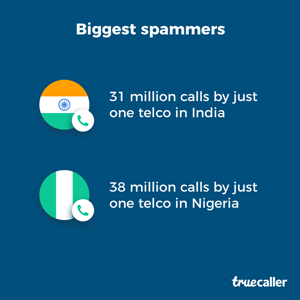 The report also revealed:
Somalia is for the second year in a row the country that makes the most calls per person. The average Truecaller Somalian user makes roughly 19 calls per day, and receives 14 calls. In contrast, Argentina doesn't seem to talk very much on the phone – they slide in last place with their incoming and outgoing calls
The top tags around the world are banks, doctors, telcos, real estate brokers, and taxis. The tags most popular last year was restaurants and hotels
The country that sent the most SMS around the world was Tazania. The average user from Tanzania sends approximately 10 SMS per day, and receives about 16! And Chile sent the least
It seems that 2017 was the year of the telcos, because one number in Nigeria connected with a telco made 38 million calls. In India, another telco made 31 million calls from just one number
Another telco sent over 53 million spam SMS to their customers in India
Throughout the year, Truecaller has been releasing Truecaller Insights data reports on a regular basis which dive in various statistics of spam call patterns like Top Countries Affected by Spam Calls, e-commerce competition, banking, and other insights.
About Truecaller:
People use Truecaller to stay ahead. It helps them know who's getting in touch, filter out unwanted calls and SMS, and focus on what really matters. The company provides a suite of unique services such as a dialer that offers caller ID, spam detection, messaging and more. Truecaller's mission is to build trust everywhere by making communication safe and efficient. Headquartered in Stockholm, Sweden, the company was founded in 2009 by Alan Mamedi and Nami Zarringhalam. Investors include Sequoia Capital, Atomico and Kleiner Perkins Caufield Byers.
Notes and methodology
The data in this article was aggregated anonymously from incoming and outgoing calls during the period of January 1st, 2017 to October 31, 2017, and for messages data was anonymously aggregated from incoming and outgoing messages from April 1, 2017 to October 31, 2017 to understand the trends and usage. No context of any calls or messages was read. These insights are purely based on our internal data and does not reflect the entire usage of any of the services and Truecaller does not warrant the accuracy or completeness of such data, and all derivative conclusions or assumption are those of the readers only.
1