Starting 31st January, every Saturday at 10 PM
New Delhi, January 22, 2014: TLC presents the culinary discovery of India by one of the world's most renowned chefs, Gordon Ramsay in the new series 'GORDON'S GREAT ESCAPE'. The series will showcase Gordon travelling in search of Indian flavours, discovering authentic food from the most jaw-dropping locations across the country. Gordon will explore the diversity of Indian food, starting his journey in the capital, Delhi and moving on to exciting locations including Kolkata, Kerala, Northeast India and ending his journey in bustling Mumbai.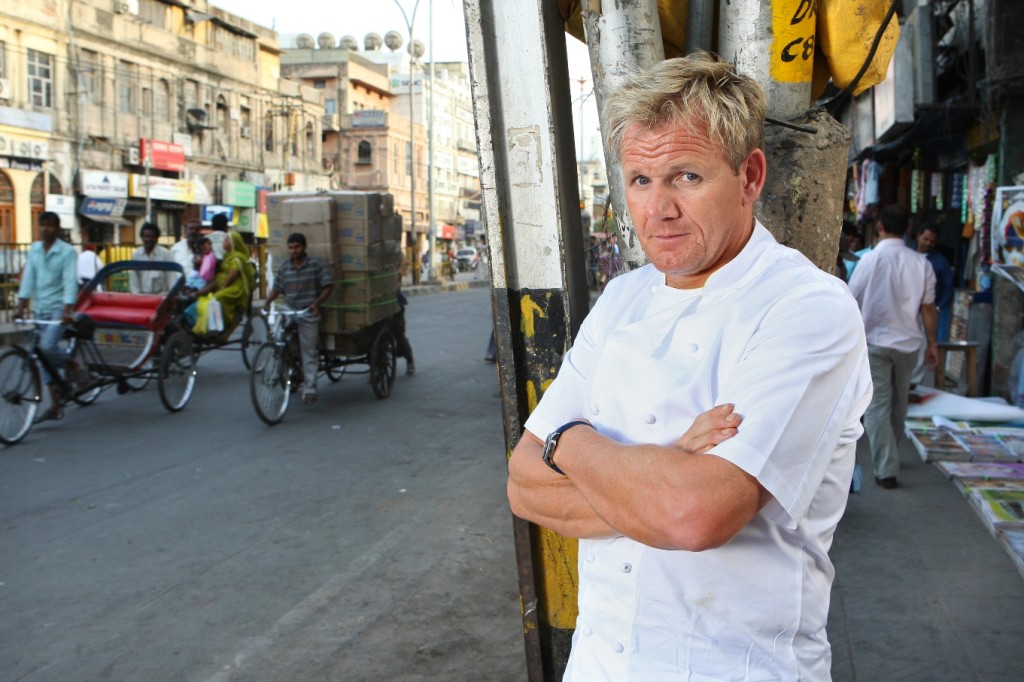 GORDON'S GREAT ESCAPE will premiere on 31stJanuary and will air every Saturday at 10 PM on TLC.
As Gordon samples a variety of Indian delicacies, he will immerse himself in local traditions and activities such as bullock racing in Kerala, hunting deer in Nagaland and assisting a master chef in Lucknow to help prepare a wedding feast.
Rahul Johri, Executive Vice President and General Manager – South Asia & South East Asia, Discovery Networks Asia-Pacific said "TLC continues to present the world of ultimate lifestyle experiences to Indian audience with its varied, distinct and quintessential programming. Gordon Ramsay is an iconic host loved by viewers for his unique personality and style. We are delighted to present his first ever culinary expedition in the new series Gordon's Great Escape on TLC."
Watch Gordon Ramsay doing what he loves most, seeking out the best food in India and testing himself in extreme and demanding situations. His appetite for adventure will take him across the country on his 'great escape'.
Some of Gordon Ramsay's India culinary experiences are captured below:
Northern India
Gordon will travel around Northern India to look for more authentic versions of the popular Indian dishes he grew up with, and at the end, will have to prove he's learned how to cook some authentic Indian food in front of food experts in New Delhi.
Kolkata
Gordon demonstrates his curiosity about Indian cuisines that aren't normally represented in UK restaurants, so he will travel to remote Northeast India to search them out, and will open a food cart in Calcutta for a day to prove he's learned something.
Southern India
Gordon will travel to Southern India to learn more about vegetarian cooking and Indian fish dishes. He will cook Sambar with a street chef and put on a fancy dinner for the upper crust of Mumbai.
About TLC
TLC is a global lifestyle and entertainment destination, presenting non-scripted and scripted programming featuring real life stories and universal themes that resonate with viewers around the world. TLC's programming is told through the lens of larger than life characters and adaptable formats, celebrating everything from relationships and life stages, to makeover and transformation to food and travel. Launched in Asia Pacific on September 1, 2010, TLC is currently distributed to over 148 million subscribers in the region.
About Discovery Communications
Discovery Communications (Nasdaq: DISCA, DISCB, DISCK) is the world's #1 pay-TV programmer reaching 2.5 billion cumulative subscribers in more than 220 countries and territories. Discovery is dedicated to satisfying curiosity, engaging and entertaining viewers with high-quality content on more than 200 worldwide television networks, led by Discovery Channel, TLC, Animal Planet, Investigation Discovery and Science, as well as U.S. joint venture networks OWN: Oprah Winfrey Network and the Hub Network. Discovery also is a leading provider of educational products and services to schools, including an award-winning series of K-12 digital textbooks, and a digital leader with a diversified online portfolio, including Discovery Digital Networks. In Asia Pacific, eight Discovery brands reach 612 million cumulative subscribers in 37 countries and territories with programming customized in 15 languages and dialects.