ConveGenius' social learning platform called 'Battle of Minds', which has gained popularity for rewarding the learners with relevant vouchers, discounts and opportunities is now providing an option to its users to donate their winnings on the application to Mahindra's Nanhi Kali project which is currently supporting education for more than 1,00,000 girl children across India.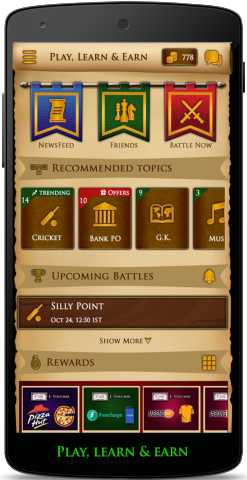 "Having worked with underprivileged girl children in the past, I truly understand how educating a girl child educates not just 1 child but an entire generation in the family. So this year young exam/job aspirants on our platform will be able to quench aspirations of many other girl children by just playing on Battle Of Minds"- says Shikhar Gupta the Chief Learning Officer at ConveGenius.
How does it work?  Users on Battle of Minds win tokens for their performance in battle contests which can be exchanged for deals & vouchers from leading brands like  Flipkart, Amazon, Dominos, Freecharge etc. But for  this festive season, there is an additional "BeASanta" voucher. On exchanging  this voucher for their tokens, a user would make a direct donation to the Nanhi Kali project, and will in turn become a Santa for thousands of girls deprived of education.
Through this "BeASanta for NanhiKali" campaign ConveGenius will not only be able to support many NanhiKalis but also plant a seed of girl child education in the minds of the future generation of the country. The campaign will be live on 23rd of Dec 2015 and end on the 1st of Jan 2016. You can download the application here https://goo.gl/LLdNrs, and make the cause of educating a girl child your good deed for the New Year!