A Round-Table discussion was organized by Merchants' Chamber of Commerce & Industry, Insolvency and Bankruptcy Board of India and ICSI Insolvency Professionals Agency  today to seek inputs from the industry and trade bodies on the 'Draft Insolvency Regulations on Individuals and Firms'. Miss. Ranjita Dubey, Dy. General Manager, Insolvency and Bankruptcy Board of India and CA Alka Kapoor, Chief Executive Officer (Designte), ICSI Insolvency Professionals Agency from New Delhi addressed the session.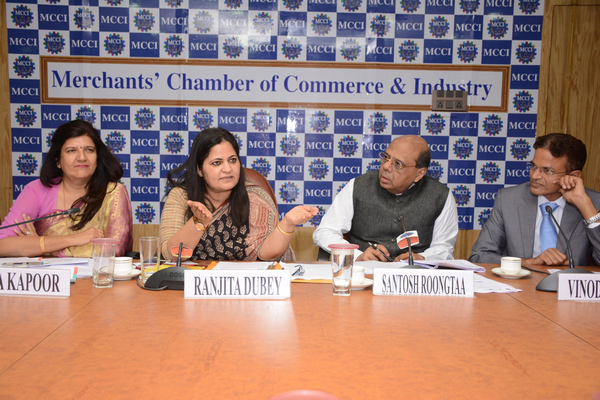 Miss. Dubey explained in detail the proposed law which stipulates that default of payment of debt amounting to Rs.1,000/- or more could be referred for adjudication. The law stipulates further that the creditors or the debtors desiring for insolvency resolution should come forward with a re-payment plan. Only if this fails, the bankruptcy can be initiated and possession of property vests with the insolvency professionals. Members felt that Rs.1,000/- is too small an amount and need to raised as cost of resolution process would be much more.
She also explained the order of priority of debt re-payment on bankruptcy. The law also provides for excluded assets that includes un-encumbered household equipments, furniture, tolls, vehicles and ornaments upto certain limits and dwelling unit subject to certain conditions. When insolvency resolutions process is rejected by the adjudicating authority, bankruptcy application may be filed.
Shri Santosh K. Roongtaa, Managing Committee Member & Past Chairman, Standing Committee on Corporate Law & Governance, MCCI summed up the deliberations and offered Vote of Thanks.