Deprecated
: Function create_function() is deprecated in
/home/dh_ndki7k/corecommunique.com/wp-content/plugins/wp-spamshield/wp-spamshield.php
on line
2033
~ Will be responsible for improving and strengthening Market Leadership Vertical, Sales & Distribution Networks ~
~ RAPOO opens another office in India at Mumbai, this new office will work as company's India corporate office~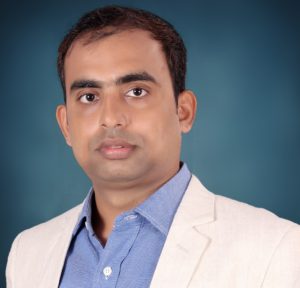 New Delhi India: October 10, 2016 – RAPOO, a global leader in providing cutting-edge wireless peripheral products, has announced the promotion of Mukesh Chaudhary as the new Country Head for India & SAARC. Mukesh Chaudhary will be operating from company's newly opened corporate office at Mumbai.He has been promoted to thisnew role from Regional Manager-West &South India and Sales Head of Bangladesh & Sri Lanka.He joined RAPOO in 2013 as RM West India and has served the company in many roles and job titles.
Mukesh Chaudhary has a significant expertise in Sales &Marketing and has gained leadership experience in business development & relationship management while being associated with various organizations over the years. Over all he has an enriching experience of12 years from leading business organizations in sales & marketing, business development & relationship management, product& channel management.
Prior to joining RAPOO, Mukesh Chaudhary was heading PC monitor brand "AOC" as Regional Manager – West India.
In his new role, Mukesh Chaudhary will be responsible for developing & managing the sales & marketing,from planning to execution in India & SAARC. Under his strategic directions and leadership,RAPOO is looking forward to move in the digital lifestyle consumer segment.
Speaking on the occasion,Oliver Shi, Vice President-Overseas at RAPOO said,"I am pleased to announce the promotion of Mukesh as Country Head for India & SAARC. I am confident, with his strong marketing &sales skill, strength and passion, he will successfully lead rapidly growing RAPOO India business &the team. I wish him all the very best and good luck for his new role & responsibility."
Mukesh Chaudhary, Country Head-India & SAARC at RAPOOsaid, "I am delightedand thankful to the management for showing faith & confidence in me.IT and digital lifestyle market is at the cusp of exponential growth and I am excited to explore and use this opportunity within this new role. I am looking forward to use my knowledge and expertise to help RAPOO grow in India & SAARC and to build an excellent reputation."
In a bid to streamline the business operations,RAPOO has made another significant investment in India and has strategically shifted its India corporate office to Mumbai while its marketing & administration office will remain in New Delhi.
About RAPOO:
Founded in 2002, RAPOO is dedicated to offering excellent, cutting-edge wireless peripheral products sound solutions, power banks etc. to users around the world.Creating the technology with the tagline "Wireless Your Life" is the simple philosophy that RAPOO has always adhered to.
Today RAPOO products are now being sold in more than 80 countries and to manage the show RAPOO has approximately 3,000 employees across the globe. RAPOO has fully ISO-certified factory and products fully comply with essential global standards and regulations like ISO 9001:2008, ISO 14000:2004, GSV, CE, FCC, RoHS, REACH, WEEE, WPC, BIS etc.
RAPOO has constantly paid close attention to the continuous changes in user demands and to provide corresponding solutions. The RAPOO range of wireless mice, wireless keyboards, and wireless headsets is tailored to meet the needs of PC users. Bluetooth headsets and Bluetooth keyboards for intelligent terminals, like mobile phones and tablet PCs, are further featured in RAPOO's broad portfolio. Multimedia keyboards and Multi-Link (dandelion technology) product suites the home theatre segment of RAPOO product range.
RAPOO possesses a top class R&D design team which has a deep understanding of the industrial aesthetic standards of today's world and can accurately grasp the end-user experiences in the market. RAPOO has won 'iF Product Design Award' for five times in a row since 2010, In 2015 along with iF Design Award for T8 touch mouse RAPOO also won 'Red Dot Design Award' for its Bluetooth headset S900. These awards further strengthened and honoured RAPOO's relentless pursuit of offering the best user experience.For more information, visit: http://www.rapoo.com/
For more details you may contact: pooja@proalliancepr.com