Kolkata September 15th, 2021. Neeraj Chopra who made the nation proud in the Tokyo Olympic Games continued to win hearts as he spent time with four differentially abled children from Care for Autism.
"The children have literally moved me and it was a pleasure spending some time with them", said the Olympic gold medallist, adding that he would love to come back and spend more time with the children.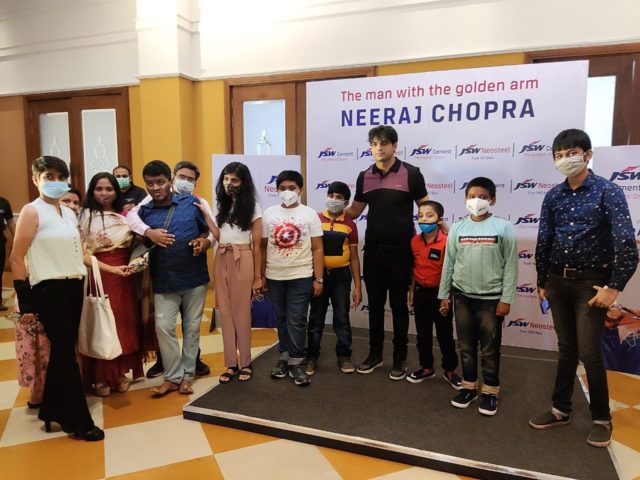 Nilesh from Care for Autism, who was visibly excited to have met his sporting hero, was confident that Neeraj Chopra would teach him how to throw the javelin like him allowing him to win glories for the nation as well. Kostab, Shivam and Abhinibesh, part of the group that met the champion were equally ecstatic. They were extremely thrilled, not only to have met the star sportsman, but also by the way they were treated by the champion, who took the meet-and-greet to a completely different level by his warmth and genuine gestures.
"We are indebted to Neeraj Chopra", said Lalit Kumar Khetan, Trustee of Care for Autism. "The way he accepted our invitation to meet the children and the way he managed his busy schedule to accommodate them is really overwhelming. His simplicity and the genuine affection that he showered on the children will be things that we will cherish for a long time to come. It is my honour and pleasure to thank him on behalf of the children of Care for Autism for his blessings."
About Care for Autism
Care for Autism is a non-profit organisation which was started in 2012 with the view of providing direct and indirect support through research and advocacy to improve the lives of children with autism and their families. In addition to providing early education and therapy support, Care for Autism provides strategies to help engage children with autism in learning activities whilst providing educators with effective intervention techniques. Located in Taltala, Baguihati, where children are taught and looked after by a support staff, which includes specially trained teachers, an occupational therapist, a music therapist and psychological counsellors.
For more information visit: www.careforautism.in
2