KOLKATA – NOVEMBER 17, 2015 – Mercom Capital Group, a global clean energy communications and research
firm, today released its quarterly update on the Indian solar market.
Mercom forecasts about 2,150 MW in solar installations for the 2015 calendar year and expects installations in 2016 to reach approximately 3,645 MW, a significant year-over-year growth.
"There have been a number of important energy related policy announcements recently, with increased activity on the ground with tenders and auctions beginning to occur more frequently" said Raj Prabhu, CEO and Co-Founder of Mercom Capital Group.
Year-to-date, solar installations in India stand at 1,652 MW, with cumulative solar installations in the country totaling 4,816 MW.
After several delays, The National Thermal Power Corporation (NTPC) has begun calling for tenders under the 3,000 MW Phase II Batch 2 JNNSM program. The first auction under this batch closed with SunEdison placing the winning bid of ₹4.63 (~$0.071)/kWh for a 500 MW solar project in Andhra Pradesh. This bid is the lowest in India to date.
"Bids are falling faster than component costs and there is a concern that this is a race to the bottom for solar bids in India," commented Prabhu. "The pent up demand due to auction delays is leading to aggressive bidding in an effort to capture market share with an assumption that component costs will continue to fall no matter what. This is a risky strategy considering the global market trends over the next 12 months."
There are about 5,500 MW worth of projects due to be auctioned off over the next several months between the NTPC and the Solar Energy Corporation of India (SECI).
In one of the more positive developments over the last few months, the Union Cabinet approved a new policy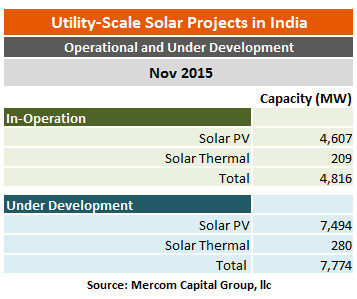 program, "UDAY" (Ujwal DISCOM Assurance Yojana), focused on the financial turnaround of power distribution companies. The government's proposal would allow state governments to take over 75 percent of DISCOM debt with a reduced interest rate for the remaining 25 percent. This policy would work to help the distribution companies achieve solvency and improve creditworthiness, addressing one of the biggest obstacles in the Indian power sector over the past decades.
Interest rates for solar projects are beginning to fall after the RBI rate cuts with rates in the 11-12 percent range compared to 13-14 percent a year ago. Offtaker risk due to the weak financial health of utilities is adding at least a percentage point in interest rates making it more expensive to develop solar projects in some states.
Mercom's latest updates indicate that 21 states have so far agreed to set up a total of 27 solar parks with a combined capacity of 18,418 MW. These projects are part of MNRE's plan to set up multiple solar parks with individual capacities of 500 MW or greater. Developers are concerned that solar park fees are much more expensive than originally envisioned and are confident that they can execute at much lower costs if the government sticks to facilitating land.
Uttarakand state's solar auction held in October resulted in the selection of 181 MW of PV projects with the lowest bid coming in at ₹5.57 (~$0.086)/kWh.
Some states are facing up to three month payment delays, according to developers and banks. The best states for timely payments currently are Gujarat, Andhra Pradesh, Punjab and Madhya Pradesh.
"After three years of stagnantion, the Indian solar market is set to experience strong growth over the next several
years," further commented Prabhu.
For the complete report, visit: http://bit.ly/MercomIndiaNov2015Form
About Mercom Capital Group
Mercom Capital Group, llc, is a global communications and consulting firm focused exclusively on clean energy and financial communications. Mercom's consulting division advises cleantech companies on new market entry, custom market intelligence and overall strategic decision making. Mercom's consulting division also delivers highly respected industry market intelligence reports covering Solar Energy, Wind Energy and Smart Grid. Mercom's reports provide timely industry happenings and ahead-of-the-curve analysis specifically for C-level decision making. Mercom's communications division helps clean energy companies and financial institutions build powerful relationships with media, analysts, government decision makers, local communities, and strategic partners. For more information about Mercom Capital Group, visit: http://www.mercomcapital.com. To get a copy of Mercom's popular market intelligence reports, visit: http://mercomcapital.com/market_intelligence.php.