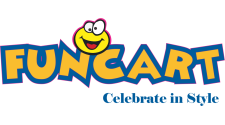 "Imagine a single e-destination that can bring all the cutest, kinkiest & trendiest party products options at your fingertips."
New Delhi,30 March,2015:- Imagine a single e-destination that can bring all the cutest, kinkiest & trendiest party product options at your fingertips. Ritika Sethi Nangia, a student from Harvard has brought the solutions for your party hassles by launching Funcart.in. Funcart.in is an advanced E-commerce platform for all kind of party products which is designed by keeping in mind the concept that everyone does not need to be a billionaire to party. It is built exclusively for the consumers who are fond of celebrating all special occasions in a special way.
The website has the stock of creative theme based party dining, party decorations and party wearable items. There are also some common theme categories, which give ready-made ideas to cherish a party and are categorized into following–
·      Kids Theme
·      Baby Occasion Theme
·      LED & Glow Theme
·      Adult Party Theme
The themes also includes relevant dining sets like:- disposable plates, glasses , knife and forks, decorative items like:- flag banners, scene setters, noise makers, lanterns, invitation cards and Party wearable like Hats, Cool Sunglasses, Masks and eye masks, costumes, fun face wears etc.
Customers can also save money through their "Party Fun Box" that bundle up all the party supplies you need to create a fantastic party at a saving; over individual pricing. So it's good quality stuff at affordable prices.
"I like to be creative and unique when I am throwing any party. So the experience and appreciations both turned my intention to start Funcart.in. With this online store we want to focus on factors like time and creativity, which will let customers enjoy their celebrations with less physical efforts to organize the moment." says Ritika Nangia
Funcart.in can be one stop portal to celebrate your occasions !
Funcart.in is an online portal, which sorts your party idea by providing theme based party supplies. Ms. Ritika Sethi Nangia, who is a Postgraduate in strategic management & international business from Harvard University, started it.
No matter what the occasion is, you will find a huge and exclusive range of party supplies here at Funcart.in. It has supplies like dining sets, decorative hangings and customized wearable for birthdays, baby showers, bridal showers, bachelor parties, theme parties, holiday parties, festivities and more.