Gouri Rani Jena from Paschim Medinipur is still in a daze. "Just imagine, a regular village woman from Bengal walking the ramp, that too in a foreign country" she gushes. "It was the high point of my life, as people appreciated and applauded me for my work. I felt that the honour was as much for me and the hard work that I have put into my craft for so many years, as it was for Madurkathi and all the weavers everywhere" says Gouri, her voice choking with emotions.
Gouri, an extremely gifted Madurkathi weaver was sharing her experience as a participant in the OMIO Festival in Kyrgyzstan earlier this month.
"I was overwhelmed by the love and affection that was showered on us by the people of Kyrgyzstan and the interest they had about our culture and our crafts has to be seen to be believed. Staying as guests of the local artists too, was an eye opener as I got to see them, in their homes, creating their crafts. What is striking is the commonality – despite the distance between us and our cultural differences – our love for what we do, our pride as members of our respective communities and our uncompromising dedication to our art forms. However, their designs, the motifs and patterns are strikingly different from those of ours and I wish that I could spend more time with them to learn more about their craft."
"I am a very ordinary woman – someone who grew up in a traditional village of West Bengal. A daughter, a sister, a wife, a mother – someone like million others, who knows the travails of  rural life, someone who has been subjected to the diktats of a conservative society, someone who has struggled to make both ends meet financially, someone who has literally braved innumerable the hurdles to continue the love affair with the art of weaving Madurkathi".
"Today, when people appreciate and applaud my work, like they did in this foreign land, i struggle, my work, my love stands vindicated. The applause is not for me alone, it is applause against the oppression of women; it is applause for every woman everywhere who is fighting her lone battle against injustice. It is also applause for our ancestors who had perfected this art of weaving Madurkathi and has bequeathed it on us to carry forward".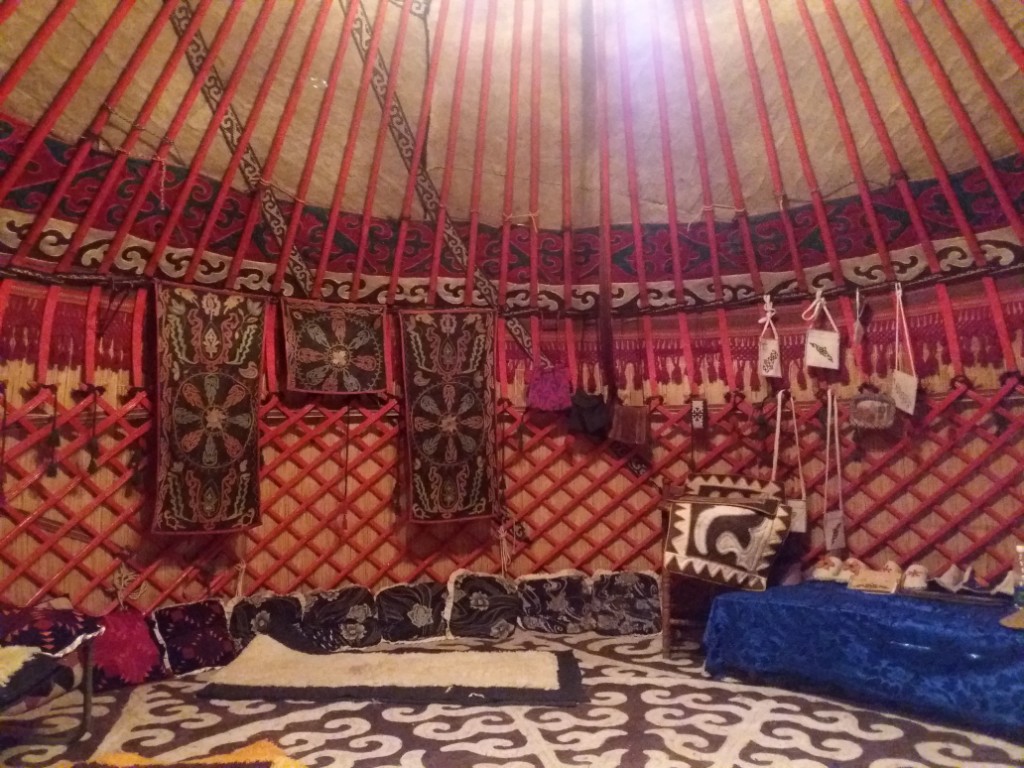 "I don't want to crib about the past" she says, "My life, my art and the little that I have achieved, is for the children of tomorrow. May they showcase their talents without going through the hardships that we were subjected to."
Gouri is equally excited about the whole concept of cultural exchange "such visits unite us through our art, our culture, our heritages and must be encouraged for they show us how, despite the distances and the obvious differences, we are all one. How we breathe the same air, create similar pieces of art and dream similar dreams".
(Sreya Sarkar led the team of artists from Bengal to the festival on behalf of banglanatak dot com. Sreya, an artist has brought back with her the fabled Kyrgyz patterns and is is still overwhelmed by the warmth of the people and their simple ways. Sreya has come back a convert and is already missing the local cuisine, which according to them, is just out of the world. "The colours, the hues, the patterns of the picturesque land is unique to put things mildly" she says "however, it was the appreciation for our traditional Art and Crafts that the locals showed, was what filled me with a kind of pride i have never experienced before.") 
banglanatak dot com
banglanatak dot com is a 16 years old social enterprise headquartered at Kolkata and working across India for fostering pro poor growth, peace and harmony using culture based approach. The organization works with marginalized communities to revive and revitalize their intangible cultural heritage (ICH) as a strategy for their socio economic empowerment. Music, art and modern creative tools like photography, video and social media are used for fostering dialogue and exchange among youth from different geographies across the globe. banglanatak dot com is accredited with UNESCO and United Nations Economic and Social Council (UN ECOSOC) and also has national partnership with UNESCO, New Delhi and international partnership with UNWTO.
For more information contact: