Three championship series on the line during NRD Power Weekend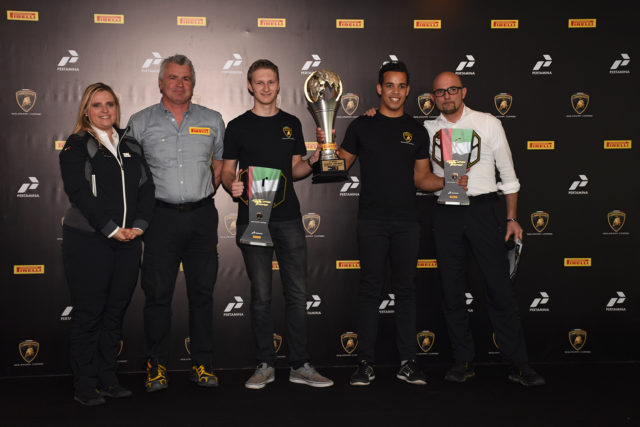 Dubai, UAE, 5 March 2017:  Championship competition heated up on the 5.39 kilometre Grand Prix Circuit at Dubai Autodrome during the penultimate National Race Days (NRD) Power Weekend (3-4 March 2017), with the new Lamborghini series on showcase with UAE national racing.
Lamborghini Super Trofeo Winter Series Middle East
The Dubai Autodrome might be a relatively unfamiliar circuit for both Axcil Jeffries and Rik Breukers, but the GDL Racing drivers mastered the track in short time behind the wheel of the exotic Lamborghini Huracán GT3.  For the second round in the row, the championship leaders were flawless on their way to winning the weekend and claiming the overall title in the first season of the series.
Dutchman Breukers put the team on pole position with a best lap time of 1:57.714 and in the next two races Breukers and Jeffries fought off early challengers to break free and take comfortable victories, winning by 41.57 seconds in Race One and 20.4 seconds in Race Two, wrapping up overall and Pro Class triumphs.
The wins also secured the Lamborghini Super Trofeo Winter Series Middle East Championship for Breukers and Jeffries, making them the first winners of the inaugural series.
After receiving their championship trophies Rik Breukers of GDL Racing said, "For us it was really a great season.  We put in a lot of hard work, especially together with our engineers in the final, and of course the GDL Team, everyone was working very hard, so I'm really glad it paid off."
Young German sensation Carrie Schreiner and Aussie ace Richard Goddard spent two races trying to chase down the GDL Racing outfit, but on both attempts they had to settle for second place silverware.  The German duo of Paul Scheuschner and Hendrik Still of Konrad Motorsport claimed third place in Race One while Jack Bartholomew and Devon Modell of FFF Racing Team by ACM collected third in Race Two.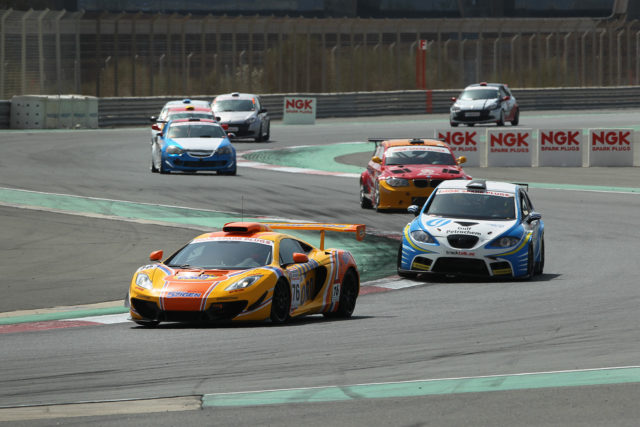 The third place finish in Race One gave Scheuschner and Still a first place trophy in Pro Am Class, while Nigel Farmer and Contstantino Bertuzzi of GDL Racing claimed the next one in Race Two.  When the final points were tallied, it was Scheuschner and Still who claimed the Pro Am title.
Andrew Haryanto, of yet another GDL Racing car, racked up an AM Class win in Race One but failed to finish Race Two due to a puncture, leaving his rivals Marco Antonelli and Davide Roda of Antonelli Motorsport to earn a class victory in Race Two. Haryanto wasn't too disappointed however, as he still did enough to take home the AM Class title.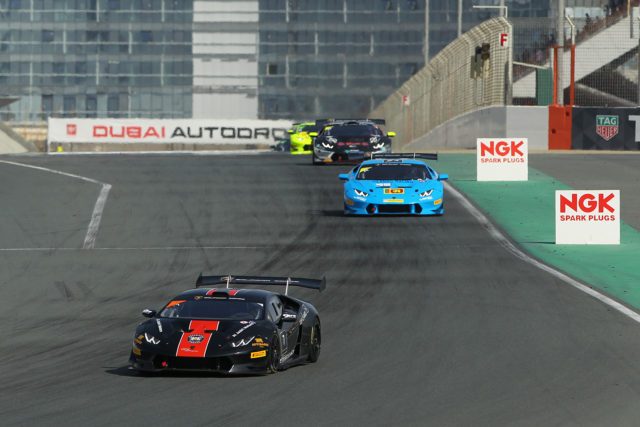 UAE Sportbike Championship
Ahmed Almuyini did everything in his power to stall Mahmoud Tannir's chances of clinching the Stock 600cc title.  The Saudi rider nabbed his first double class win of the season and edged closer to Tannir in the championship standings.  Only one round remains with everything at stake.
Mahmoud Tannir, racing a Honda CBR600RR, entered the weekend knowing he could finish off the championship with one round to spare.  The Lebanese rider started out perfect, winning pole position in qualifying with a best lap of 2:10.181, with Ahmed Almuyini off the mark by 0.337 seconds.
He may have just missed out on qualifying but Almuyini's determination and speed over the next two races proved to be unstoppable.  It was a spirited battle each time but Ahmed and his Kawasaki ZX6R seemed to have the edge on the two long straights of the Grand Prix Circuit, and he took the first race over Mahmoud by only 0.914 seconds and then by 1.043 seconds in Race Two.
In the Rookie Cup (Stock 600cc), the rivalry between the frontrunners was even more intense.  Sunit Gonsalves of India, riding a Yamaha R6, began the weekend firmly in control of the Rookie championship but his chief rival, South African Brendan Zaaiman on his Honda CBR600RR scored two important class victories down the stretch.  Only two championship points separates the leaders going into the final round.
In the non-championship 1000cc Class, Fahad Al Gharbally, racing a BMW S1000RR, and Nasser Al Shaiba, on a Yamaha R1,each traded successes with one win apiece.
NGK Racing Series
Dragon Racing dominated the top half of the field with three striking entrants: a Ferrari 488 GT3 driven by Leon Price, a McLaren GT Sprint piloted by Josh Price and a Ferrari 458 Challenge in the hands of Chris Frogatt.
Even in qualifying it was clear that that captain Leon Price's Ferrari 488 GT3 had no peers, clocking in a best lap time of 2:05.588, which was a remarkable 2.89 seconds a lap faster than any rival, which happened to be another Dragon Racing Ferrari, driven by Frogatt.
Leon sailed from pole to chequered flag in Race One, taking a comfortable victory over teammate Chris in second place and Josh in third, securing a full podium for Dragon Racing.  Leon sat out Race Two, which allowed Chris Frogatt to fight for the win, crossing the finish line 9.021 seconds ahead of Josh Price.  Costas Papantonis, driving his Seat Leon Super Copa, trailed in for third place.
Dragon Racing wrapped up Classes Three, Four and Five while Papantonis of Mouhritsa Racing topped Class One, and Ian Roberts, behind the wheel of an open-top Caterham 7, took top honours in Class Six.
Ashan Silva was the clear victor in Class Two with a pair of wins, but the real battles took place in the sub-category Renault Clio Cup.  Alexandros Annivas of Mouhritsa Racing suffered a severe setback to his championship hopes when a gearbox problem took him out of both races.  His rivals took full advantage with Will Morrisson and Peter England each nabbing a class win.
Morrisson is now firmly in command of the Clio Cup with only one more round to go.  England has moved into second place while the defending champ Annivas slid down to third.
NGK 3H Enduro
A non-championship bonus race was added for the NGK Racing Series, with drivers normally accustomed to sprint contests now given the opportunity to challenge a three hour endurance race, with pit stops and driver changes.
A Lamborghini Huracán from the Super Trofeo series pulled a double duty shift, joining the NGK 3H Enduro for Lap57.  Driven by Dilantha Malagamuwa, Ashan Silva and Armaan Ebrahim, the Lambo was the only non-Class Two vehicle on the grid and it quickly became the predator amongst a field of Renault Clio Cups and one Honda Integra.
The Lap57 Huracán swallowed up Clios one by one and then drove off into the distance, leaving the battle for second place for the remaining Class Two contenders.
It was the Honda Integra, piloted by Jonathan Mullan and Umair Khan, that fought its way to a second place finish overall and top class honours.  Will Morrison and Julian Griffin in their Renault Clio Cup were just 20.133 seconds behind to claim third.
The final National Race Days round of the 2016-2017 Season will take place on the 3.56 kilometre National Circuit at Dubai Autodrome on Friday, 31 March 2017.