Supported by Indian Dental Association ,Ministry of Health and Family Welfare, I CAN CARE FOUNDATION
Noida, 29th May, 2016: To spread awareness around the World No Tobacco Day, Jaypee Hospital a Multi Super Speciality Hospital in Sector 128 Noida, in association with Indian Dental Association, Innovative Cancer Care and Rehabilitation and I CAN WIN Foundation organised a workshop today.   The workshop was aimed on 'Tobacco Dependence and treatment guidelines' in India, where over 150 doctors participated. 
There has been alarming increase in the number of cancer patients especially of oral cancer. The workshop aimed to enhance the skill of dental surgeons in guiding the patients for tobacco cessation that can help in controlling the menace of tobacco epidemic. According to the recent figures, from Global Burden of Diseases study coordinated by IHME, tobacco use has led to nearly one million deaths and significant health loss in India. It is the leading preventable cause of death.
Highlighting the facts and problems faced while quitting tobacco, Dr. Pawan Gupta, Additional Director, Jaypee Institute of Cancer Care said, "70% of tobacco smokers/chewers want to quit tobacco and more than half try to do so, but only a minuscule of 4% are successful as per the survey of Indian adults report. The rates of quitting tobacco can be improved if more and more smokers use evidence based treatment when they attempt to quit it and also it can be further improved if the primary care physicians follow evidence based approach and proactively practice tobacco cessation."
On the occasion, Mr. Manish Trivedi, COO, Jaypee Hospital said, "Chewing or smoking tobacco is a major cause for rising number of the fatal cancer disease. India has the largest global burden of oral cancer, accounting for almost 40 per cent of all cancer cases across the country. Tobacco is one of the risk factors for oral cancer. Jaypee Hospital is equipped with world class medical infrastructure, doctors and we feel proud of contributing towards this cause. We hope to organise many such workshops in future as well."
The workshop was conducted covering topics like Tobacco scenario – India, Intervention – Counselling and Pharmacological and a Panel Discussion on Challenges for tobacco Free India. The programme was supported by Ministry of Health and Family Welfare & I CAN CARE FOUNDATION.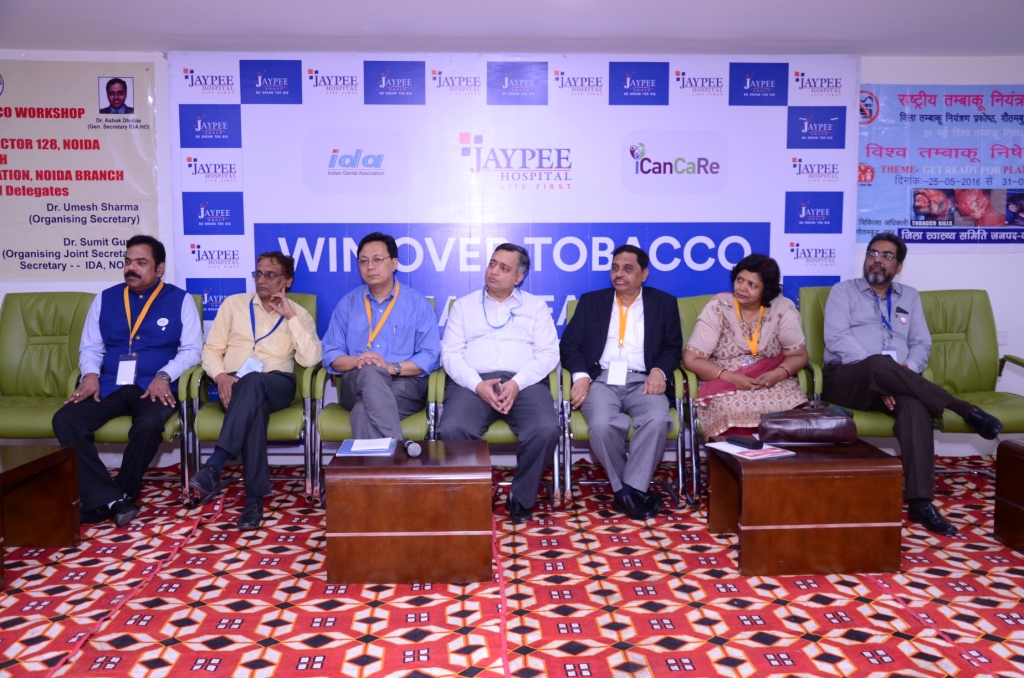 About Jaypee Hospital:
The Noida-based Jaypee hospital is the flagship hospital of the Jaypee Group, which herald the groups with a noble intention to enter the healthcare space. The hospital spreads across 25 acres of sprawling campus in the state of Uttar Pradesh. The hospital has been planned and designed as a 1200 bedded tertiary care multi-specialty facility and has commissioned 525 beds in the first phase.
The Jaypee Group is committed to providing world-class healthcare supported by renowned consultants and most advanced technology. Jaypee Hospital is a super-specialty hospital with advance healthcare facilities, the latest diagnostic services, and state- of-the –art technology focused on medical specialties that meet the needs of masses. The plan, design and construction of this hospital position itself amongst very few LEED Certified hospitals building in India.
For further information on the company, please visit-