InnoTrans achieves a new dimension as an innovation platform and marketplace
Record exhibitor and trade visitor numbers
Berlin, 26 September 2014 – Today, on 26 September, after four successful days InnoTrans 2014 comes to an end. Record exhibitor and trade visitor numbers, 140 world premieres, 145 vehicles on the outdoor display and an even greater number of satisfied visitors: those are the key statistics of the best InnoTrans to date. 2,758 exhibitors from 55 countries presented their innovative products and services in Berlin, with around 139,000 international trade visitors from over 100 countries attending this year's leading trade fair for transport technology.
"Once again, InnoTrans was able to build on its undisputed standing as the leading innovation platform and the world's largest marketplace for rail technology", said Dr. Christian Göke, CEO of Messe Berlin. "With a ten per cent increase in exhibitor and visitor numbers this event continues to grow consistently in every important area."
Highlight: vehicle presentations on the rail track and outdoor display
For the first time in the history of InnoTrans 145 rail vehicles were shown on the rail track and outdoor display.Attracting wide attention at the events for the press, leading manufacturers of rolling stock demonstrated 17 innovative rail vehicles and performed symbolic handovers to customers.For example, together with Deutsche Bahn Alstom presented its new H3 hybrid locomotive.Alongside Ansaldobreda and the Italian network operator Trenitalia, Bombardier displayed its Frecciarossa 1000 high-speed train, among other products.
In the presence of Patrick McLoughlin, the UK minister of transport, Siemens unveiled its Desiro City Thameslink train, which made its first public appearance.In an official ceremony at InnoTrans Pesa handed over the DB Link, the first Polish train manufactured for Deutsche Bahn.Another ceremonial event also took place with Vossloh's handover of a G 18 locomotive to Spitzke.Together with Serbia's rail network operator Stadler presented its new Flirt 3 regional passenger train in Berlin.
High numbers of decision-makers among trade visitors
Around 139,000 trade visitors came to InnoTrans to find out about state-of-the-art products from the global train industry, a record number.Numerous delegations from countries including Japan, Vietnam, Korea, Italy and the Netherlands were present at the fair.The Turkish delegations alone numbered 420 high-ranking figures from industry, politics and science.
According to the initial results of a representative trade visitor survey there was a substantial increase in the number of business deals and the number of trade visitors present in a decision-making capacity.Thus, the ratio of decision-makers among visitors rose to around 50 per cent, an increase of more than ten per cent.90 per cent of trade visitors said they would recommend the trade fair to others.
Open Days on 27 and 28 September
Train enthusiasts and enterprising visitors will be certain to get their money's worth on the Messe Berlin rail track over the weekend.On the InnoTrans Open Days for the public they can marvel at the latest rail vehicles, with displays ranging from innovative high-speed trains to very powerful locomotives.Excitement, games and savoury dishes will all be part of the Open Days, as will uniformed train personnel.Attractions include the country's largest walk-in toy train and 'Emma', a vintage steam engine.
Venue: Messe Berlin rail track and outdoor display, South Entrance
Public transport: (S-Bahn) S5 to Messe Süd
Dates and times: 27 and 28 September, 10 a.m. to 6 p.m.
Admission: 2.50 euros, free admission for children up to the age of 14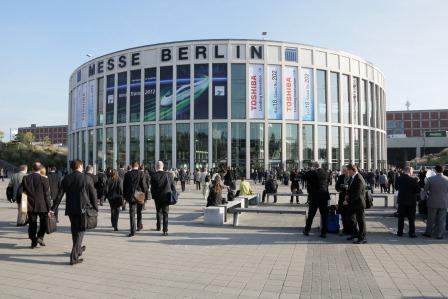 Comments by exhibitors on InnoTrans 2014
Dr. Lutz Bertling, President and COO, Bombardier Transportation:
"Once again, this year's InnoTrans was the most important exhibition of the industry's products and its continuing growth speaks for itself.Bombardier had an outstanding opportunity to showcase its innovative products and technologywhich, together with our customers, we will use to shape the future of mobility.We had numerous meetings and talks with customers and partners, in which we underlined our expertise in key areas such as Urban Flow, Capacity und Efficiency.We already look forward to returning in 2016."
Philippe Citroën, Director General Association of the European Rail Industry(UNIFE):
"For UNIFE and our members, the European Rail Supply Industry, InnoTrans remains the most important gathering for the global rail sector. This year we once again witnessed a great turnout, which, I believe, is more clear evidence of the bright future for the rail industry and for sustainable mobility by rail. The innovations displayed, the important exchange of ideas and plans for the future of our sector are essential for making rail transport even more attractive and encourages the necessary modal shift from road and air to rail. This is the focus of the Shift2Rail Joint Undertaking that has been promoted by UNIFE and its members.
Dr. Jochen Eickholt, CEO, Division Rail Systems, Infrastructure & Cities, Siemens AG:
"Digitisation will also play an increasingly important role in transport systems.This was something that became clear at InnoTrans 2014.Mobility 4.0 was one of the key topics of this trade fair.At Siemens, in addition to our focus on conventional rail systems we see the digitisation and intelligent networking of transport networks as our main area of expertise.The innovations in this field that we presented at InnoTrans 2014 met with keen interest from our customers as well as from the politicians we met.Once again, InnoTrans showed itself to be an indispensable forum that provides a forward-looking impetus for the future of the transport industry."
Jürgen Fenske, President of the Association of the German Transport Companies (VDV):
"Once again, InnoTrans underlined its role as the world's largest and most important rail industry event.The many and wide-ranging rail industry products concentrated on a display area covering 100,000 square metres were impressive proof of how important rail transport in Germany continues to be.As an industry, together with political decision-makers who were present in large numbers, we must make sure that rail and public transport in Germany remain a strong future employer and provider of services."
Dr. Rüdiger Grube, CEO, Deutsche Bahn AG:
"InnoTrans was a major success for Deutsche Bahn. We were able to cultivate and expand our business relations at all levels, in particular with our customers in Asia and the Middle East.Interest in public mobility continues to grow, particular in the rail transport of the future in the digital age.That was something this InnoTrans, the biggest to date, demonstrated once again.This trade fair continues to be the most important meeting place for the industry."
Prof. Dr. Ronald Pörner, Managing Director of the German Railway Industry Association (VDB):
"Worldwide, InnoTrans in Berlin is undisputedly the main venue for showcasing rail systems and rail transport technology.In 2014 this unique exhibition of forward-looking transport solutions offered impressive proof of this once again.InnoTrans not only fulfilled but also exceeded the high expectations of Germany's railway industry by far.I am certain that the business fortunes of our company will benefit from the many positive influences of these eventful days at the fair."
Henri Poupart-Lafarge, President Alstom Transport:
"Alstom works every day to anticipate the future of mobility. There is no other place like InnoTrans to discuss with our counterparts, showcase our innovations and our large portfolio of technology. Thank you to the InnoTrans show organizers and see you back in 2016."
Russell Stokes, Senior Vice President, President and CEO of GE Transportation.
"InnoTrans was a great event to showcase how we're harnessing the power of the Industrial Internet for our rail customers," said Russell Stokes, senior vice president, president and CEO of GE Transportation. "We're eager to build on the bonds made at this show in the days, weeks and months ahead."