Mumbai 11 September 2018: GIC Re, a reinsurance company majority owned by Government of India secures 10th position amongst the top 40 global reinsures, as published by Standard & Poor's. This is based on premium booked during Financial Year 2018.  The company registered a top line growth of 24.5% during FY 2018 recording premium of Rs 41,799 crore and surpassed two global reinsurers to achieve 10th position.
GIC Re recently announced its financial performance for Q1 FY 19 and is growing at a healthy rate given its domestic market dominance and forecasted strong GDP growth for Indian economy taken with growing insurance penetration. Its growth in Gross Premium Income was 9.3 % at a premium of ₹18,791.45 crore for the quarter ended 30.06.2018 as compared to ₹ 17,194.76 crore in the quarter ended 30.06.2017. The company showed  remarkable growth in Profit After Tax (PAT) for the quarter ended 30.06.2018 of INR ₹ 771.42 crore compared to ₹ 390.11 crore for the quarter ended 30.06.2017. Return on Equity (ROE)(unannualized), was 3.5% in the quarter ended 30.06.2018 compared to 2.1% in the quarter ended 30.06.2017. Net Worth of the company increased by 21.6% to ₹ 22,297.66 crore on 30.06.2018 from ₹ 18,336.91 crore on 30.06.2017.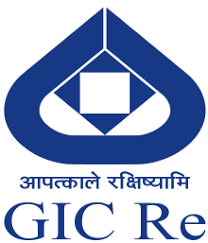 Mrs Alice G. Vaidyan, Chairman-cum-Managing Director of GIC Re said "I assumed the position of CMD with clear goals before me of the Corporation entering the league of top 10 global reinsurers and simultaneously setting the corporation on the path of sustainable underwriting profitability.  This is of course apart from GIC Re setting up own syndicate in Lloyd's of London." Mrs Vaidyan further added:  "Metric of size alone cannot be a goal, any entity has to consistently and sustainably deliver enhanced value to all its stakeholders and we are firmly on the path of attaining our medium term goals."
With government push towards improving insurance coverage and health scheme Aayushman Bharat on the anvil, GIC Re can be expected to benefit from emerging opportunities in health segment. GIC benchmarks its performance against the best-in-class global players. With the competitive advantage that it enjoys and with a domestic market growth momentum, on the strength of its balance sheet size and customer servicing, it can be expected to further strengthen its position globally.
With Indian economy among emerging ones acting as a driver of global growth, GIC Re can be expected to further enhance its position globally.
About General Insurance Corporation of India (GIC Re)
GIC Re has consistently maintained its leadership position in the Indian reinsurance market. It leads majority of the domestic companies' treaty programmes and facultative placements. While foreign reinsurers have opened branch operations in India since early 2017, GIC Re is expected to maintain its market leadership and market share. Internationally, GIC Re is an effective reinsurance partner for the Afro-Asian region, leading the reinsurance programmes of several insurance companies in Middle East and North Africa, and Asia including SAARC countries. It has offices in London, Dubai, Kuala Lumpur and a representative office in Moscow. In April 2018, syndicate fully capitalized by GIC Re became operational at Lloyd's of London. This marks an inflexion point in its history since it will help broaden and diversify its international portfolio.
1