Reclaimed Denim Fiber Laminate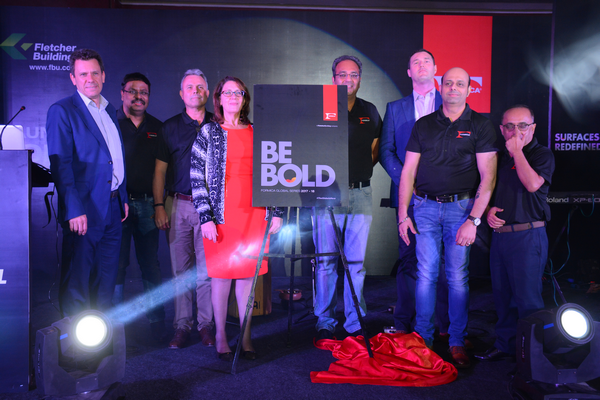 Formica Group, the inventor of laminate, has been awarded the prestigious Red Dot award: Product Design 2017 for Reclaimed Denim Fiber from the Formica® Laminate collection. The Red Dot distinction recognizes outstanding design, and is an internationally sought-after seal of quality. The competition received more than 5,500 entries from 54 countries this year, with award winning products selected by an international jury of 40 experts.
Reclaimed Denim Fiber laminate is an innovative product that really pushes the boundaries of traditional surfacing conceptions," said Renee Hytry Derrington, Group VP of Design for Fletcher Building's International Businesses Division, which includes Formica Group. "We are proud that the product has received this global recognition of design excellence with the Red Dot award."
This design is launched in India as part of Formica exclusive laminate collection called  "Global Series", exclusive designs created in-house, latest, trending  & original designs  handpicked from Formica range around the world, 100% new to India.
With the Global Series, Formica introduces next generation of surfacing with all new feel. Formica Global series will redefine surfaces with its unique ability to create looks which are close to the real thing.
Reclaimed denim fiber is an excellent green product, will be the first laminate in India market made by real cloth fiber. The diagonal threading Jeans finish makes it real denim.
180 FX designs are true to scale original designs. Popular marble and granite designs in honed & gloss finish will replace the real granite & stones.
Patterns like Anniversary collection is something very fresh & vibrant colours for India laminate market, no one has these deigns, exclusively designed to celebrate 100 years of Formica.
Formica exclusive wood finishes gives us the edge in Indian market. The wood grains are high definition & natural detailed original designs made with finishes like Sawcut, Naturlle, and Natural grain & Dry grain.
Reclaimed Denim Fiber Laminate: real denim fibers embedded in décor paper
Inspired by a global interest in denim and how to recycle the mass consumption of blue jeans; Formica Group was motivated to create a new kind of industrial paper. Made from real reclaimed denim fiber from cloth production mills, the overlay paper for Reclaimed Denim Fiber features 60 percent post-industrial denim fiber. Reclaimed Denim Fiber laminate is available in Jeans finish, typical denim diagonal twill that adds true-to-touch realism with a directional texture i.e. JN (jeans) Finish. Due to the unique paper making process, no two sheets of Reclaimed Denim Fiber laminates are exactly alike.
About Formica India
Part of the 1913 founded Formica Group of companies, is world's largest manufacturer of High Pressure laminates (HPL).  Leading provider of branded, designed surface solutions for commercial and residential customers worldwide.
Formica group is part of the Fletcher Building which is an integrated manufacturer of class leading building and construction products and services. Fletcher building limited is one of the largest listed companies in New Zealand, with a market capitalization of over NZ$8billion.
For more information about Formica Corporation, its products, special programs and promotions, visit www.formica-india.com
1