FORT WORTH, Texas (July 24, 2018) – The Botanical Research Institute of Texas (BRIT) is proud to announce that Dr. Sylvia Earle has been selected to receive BRIT's 2018 International Award of Excellence in Conservation for her lifetime of work in marine biology and ocean conservation. Dr. Earle will be the first ocean conservationist to receive BRIT's conservation award in its 23-year history. The award will be presented at BRIT's annual ceremony on October 25, 2018, at the Worthington Renaissance Fort Worth Hotel in Fort Worth, Texas.  
An American oceanographer and explorer known for her research on marine algae, Dr. Earle has lived by her mantra, "no blue, no green." She has spent her lifetime protecting and conserving the world's oceans.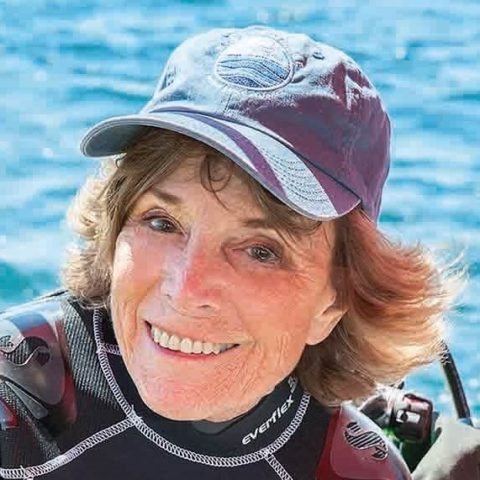 Earning undergraduate and post graduate degrees in botany helped form Dr. Earle's belief that understanding vegetation was the first step in understanding any ecosystem. Dr. Earle's 1966 Duke University dissertation, "Phaeophyta of Eastern Gulf of Mexico," shed new light on the region's aquatic plant life, and when combined with her other Gulf research, the body of work stands today as the definitive study of the region's abundant and rich aquatic plant life.
"The study of botany whether on land or in the ocean serves as the fundamental key to solving our planet's environmental challenges," said Dr. Ed Schneider, BRIT's executive director. "Dr. Earle's dedication in keeping the ocean blue is truly remarkable. On behalf of the BRIT board, I commend her for her important, ongoing work. We are thrilled to have her among our illustrious Conservation Award honorees."
Dr. Earle has led more than 100 expeditions and logged more than 7,000 hours underwater. In 1970, she led the first team of women aquanauts on the government's historic Tektite II deep-sea research project, during which time the team conducted groundbreaking work on the effects of coral reef pollution. She has participated in ten saturation dives and set the women's solo diving record in 1,000 meters depth. The New Yorker and the New York Times have called her "Her Deepness," and the Library of Congress named her a "Living Legend." She was the first recipient of Time Magazine's "Hero for the Planet" and the 2009 TED Prize winner.
Dr. Earle's recent research focus is on developing a global network of marine protected areas—called "Hope Spots"—to safeguard the living systems that provide the underpinnings of global processes. Today, she is Explorer-in-Residence at the National Geographic Society and a prolific author and lecturer.
Created in 1995, the International Award of Excellence in Conservation is presented to honor individuals and organizations that exemplify the ideals expressed in BRIT's mission. Honorees include scientists, conservationists, heads of state, philanthropists, Pulitzer Prize winners, politicians and other notables. BRIT's annual award event has played an important role in raising public awareness of its mission and has brought an increased understanding of the importance of conservation issues and environmental awareness. Through the education of supporters, BRIT has added to the global efforts to save the diminishing resources of the planet.
The award will be presented at BRIT's annual event on October 25, 2018, at the Worthington Renaissance Fort Worth Hotel in Fort Worth, Texas. Tickets may be purchased at: http://www.brit.org/international-awards/international-award-excellence-conservation/2018.
About the Botanical Research Institute of Texas
The Botanical Research Institute of Texas (BRIT®) is a nonprofit, international research and education organization that collects and safeguards plant specimens, studies and protects living plants, and teaches about the importance of conservation and biodiversity to the world.
BRIT's scientists and educators work together in achieving the organization's two-fold mission of scientific research and education. Its scientists work from local to global scales, investigating fundamental botanical questions within the themes of biodiversity exploration and species conservation. BRIT educators create new ways to turn information into knowledge through outdoor discovery, discussion, and experiential learning for both students and teachers.
BRIT's work benefits our community and the world in a number of areas, including environment, by understanding how plants function and interact in ecosystems; society, by educating and training a new generation of thinkers and problem solvers; and conservation, by providing the critical data needed for proper land stewardship.
BRIT is open to the public Tuesday through Friday from 10 a.m. to 4 p.m. and on the first Saturday of each month from 9 a.m. to noon. Admission is free. For more information, visit http://www.brit.org.