World Education Congress (WEC) a major congregation and platform of Vice Chancellors and Leading Educationists from all over the World has conferred the "Outstanding Contribution to Education Award" for the year 2015 to Dr.Darlie Koshy, DG&CEO, ATDC & IAM at the World Education Congress & Awards at Taj Lands' End, Mumbai.This is an international recognition given to Dr. Darlie Koshy for his exemplary role in Leadership, Innovation, Academic and Industry Interface in the education.
The award was conferred by Mr. Debashish Biswas CEO, (CIMA). in the presence of Dr. C. M. Dwivedi, Dr. R. L Bhatia, Dr. Aditya Shastri Vice-Chancellor Banasthali University, Brig (Dr.) Surjit Pabla Vice-Chancellor Mangalayatan University, Prof. R. M. Zinyemba, Vice-Chancellor Catholic University in Zimbabwe, Prof. Anglelica M. Baylon External Relations Director, Martime Academy of Asia and the Pacific –Philippines and other dignitaries.
This  award  was  given to Dr. Darlie Koshy DG & CEO ATDC and IAM for  his  outstanding  contribution  for Knowledge,skill development  and  leadership for  the upliftment  of  the  society. Dr. Darlie Koshy's pioneering contributions to Fashion & Design Education over the last quarter of a century has been well acknowledged by the academia, industry and policy makers alike. A Doctorate from IIT Delhi in Management and an MBA from CUSAT, Dr. Koshy has been also trained at FIT New York in Fashion Marketing & Merchandising during 1987-88.Dr. Darlie Koshy as the DG & CEO over the last 5 years (since Nov. 2008) are spearheading the advancement of an education and training Eco-system for Fashion – Apparel & allied sectors having won "UK-India Skill Forum Award 2011", and "ASSOCHAM Award" for Best Vocational Institute 2014 for ATDC & National "Education Leadership Award" from Dainik Bhaskar (2013) for Institute of Apparel Management (IAM).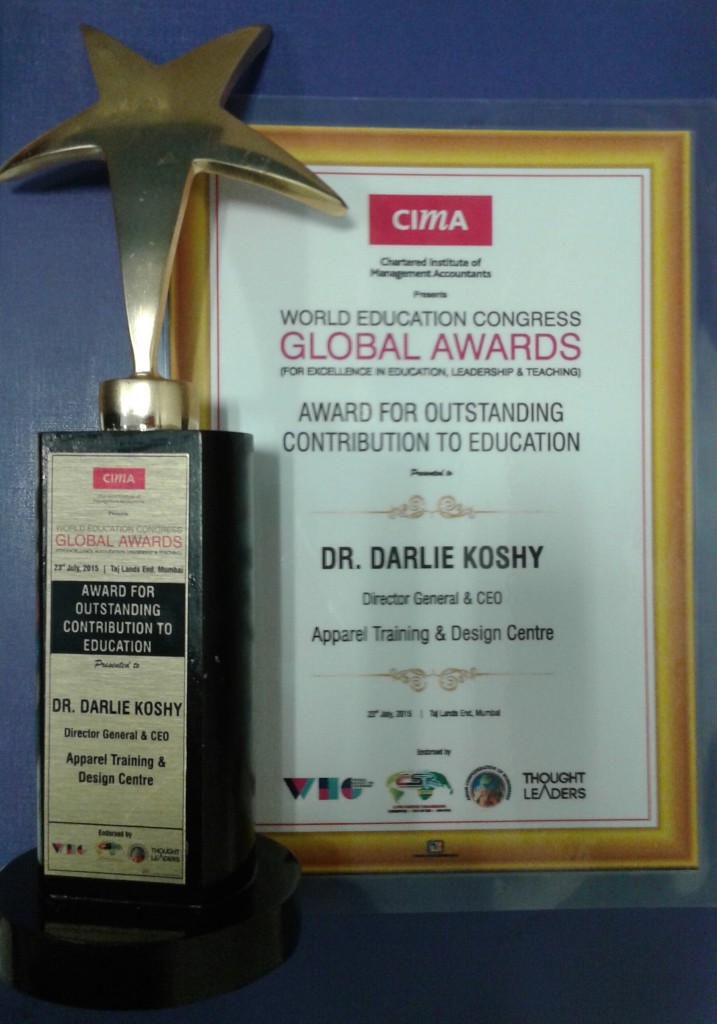 "I am pleased to know about this significant recognition of "Outstanding Contribution to Education 2015" conferred on me by WEC and accept the award with all humility and dedicate the same to not only the teams of different Education Institutions, I've had the opportunity to work with over the last 2 decades which include NIFT Delhi, NID Ahmedabad and the teams of ATDC & IAM Gurgaon but also to the stake holders who have extended support and cooperation over the years" said Dr. Darlie Koshy, DG & CEO, ATDC & IAM.
The WORLD EDUCATION CONGRESS 2015 is governed by Global Advisory Council which guides the strategic intent of the congress to its logical success. The aim of the Awards is to recognize the Best of Best, organized for a professional cause. The objective at core is benchmarking educational practices. World Education Congress presents awards to institutions and individuals who have achieved high levels of excellence and who provide exemplary leadership and are a role model.