Register for "Cook With Our Chef" – A live cooking session with the hotel chef and get a flat 70% off on the Mother's Day special brunch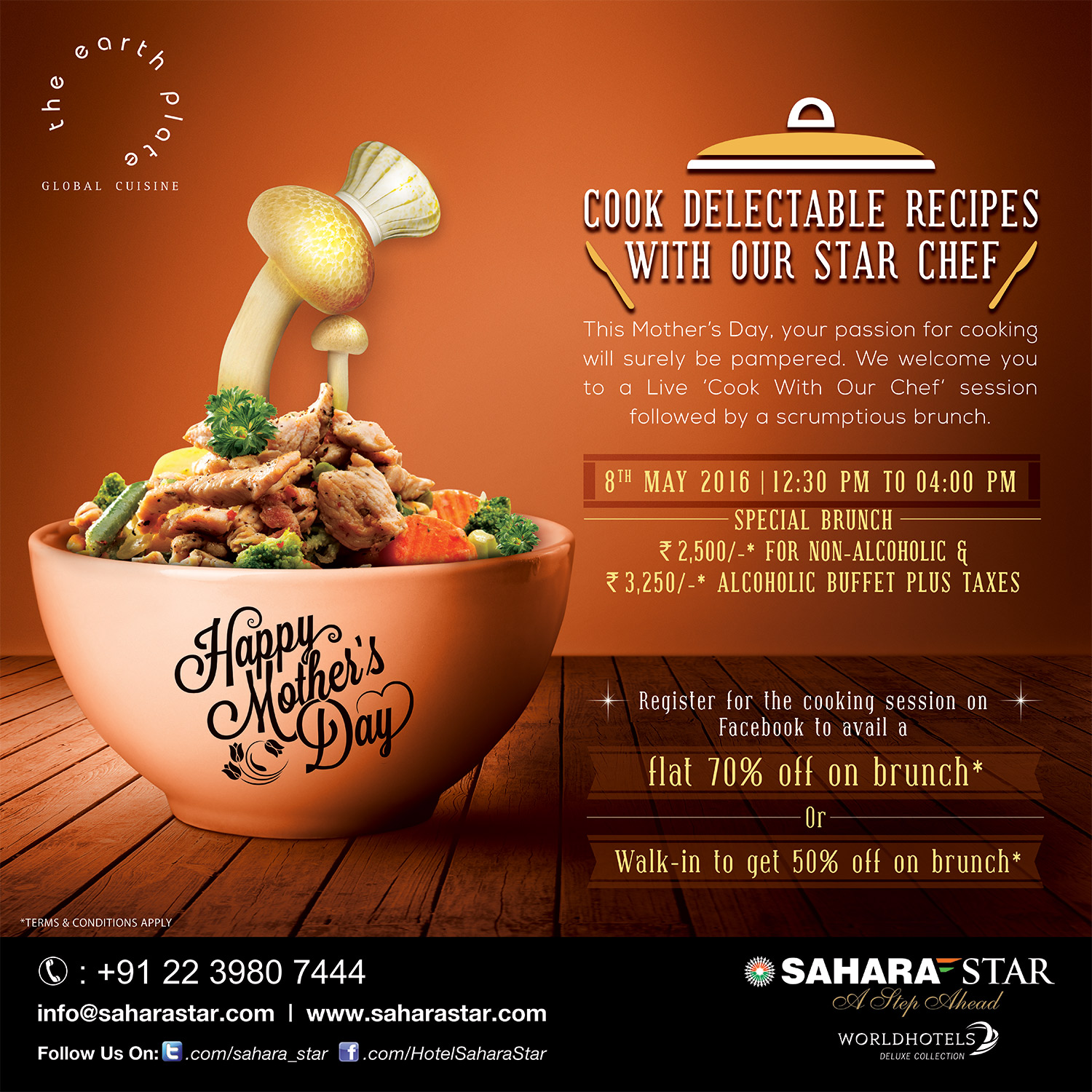 Mumbai, April, 2016: Hotel Sahara Star is all set to host an unforgettable Mother's Day with a whole lot of fun and excitement. The hotel invites all you super mom's to be a part of "Cook With Our Chef" – a live cooking session with the chef based on the theme of Summer recipes.  First 15 entries will get a flat 70% discount on the special Mothers Day brunch. Submit your recipe and image of the dish on the facebook page, based on the summer theme and the hotel will send you an invite on email for "Cook With Our Chef" session scheduled on 8th May 2016.
Apart from the "Cook With Our Chef" session, the EarthPlate will be hosting a lavish buffet brunch on 8th May 2016. The global cuisine restaurant will offer the special Mother's Day menu which includes mouthwatering delicacies; decadent sweets complimented with beverages of your choice along with a rose bud and a box of chocolates.
Celebrate the everlasting bond of love you share with your mother and create an unforgettable experience for her on this special occasion. Enjoy the Mother's Day brunch menu specially created by Chef Rupesh which will highlight Home style recipes consisting of both vegetarian and non-vegetarian delicacies cooked in a traditional way, and a wide variety of delectable desserts. The menu also includes beverages like martinis, sparkling cocktails, fresh juices, mocktails and soft drinks.
All Mothers will be offered a 50% discount on a booking for table of 4. The special attraction will be the live magic show that would make the special day more memorable. As a memento the hotel will also gift coffee mugs as a souvenir.
Indulge her like a queen and shower her with love and gratitude this Mother's Day at Hotel Sahara Star.
Register on:
https://docs.google.com/forms/d/1tQUvpjF9O1-XPEPW2NqHblK65uSoOI1sw73D7XHIXlg/viewform#responses
Share your recipe and image of the recipe on:
https://www.facebook.com/HotelSaharaStar/photos/a.247526388606950.83375.215813731778216/1368005336559044/?type=3&theate 
Timings:  12.30 pm to 4 pm
Prices: Rs 2500 plus taxes for non-alcoholic buffet
             Rs. 3250 plus taxes for Alcoholic buffet