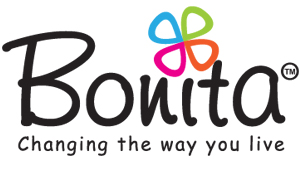 India's fast growing home utility maker is silently revolutionizing the urban homes not just in India but in many other countries across the globe
New Delhi, Jan, 2015: Indian home utility manufacturer Bonita India has been awarded as one of the top 10 promising startups in recent years by the CII India Innovation Initiative Award for revolutionizing the home utility market with its highly innovative products.
Within a decade of its inception, Bonita India has not just made a mark across India but has also established its strong foothold in 20 countries including USA, Germany, Italy, French, Spain. The brand also won the coveted Finalist Award for Innovation from International Housewares Association at the Chicago Housewares Show. It also holds several patents for its innovative products.
While receiving the CII India Innovation Initiative Award, Mr. Umang Srivastava, Joint Managing Director, Bonita India said other than having a revolutionary idea, starting a successful venture requires massive efforts on multiple fronts including management, logistics, and execution as well as hiring resourceful people.
"Having worked for over a decade in large companies, there are a lot of things that one takes for granted. However, once you start your own venture, you need to do everything yourself. The shift from being an employee to being a business owner is like moving from one side of the table to the other side. Once I started our own venture Bonita, I also started appreciating the hard work and efforts of all those entrepreneurs who have taken the decision to start something on their own," he said.
"The idea of Bonita stems from the desire to change the way urban Indian homes are set up. We noticed a glaring lack of innovative and aesthetically appealing home utility products in the Indian market, and this observation led to the start of Bonita," he added.
With changing times and shrinking spaces, the lifestyles of urban Indian homes are changing. Today people demand home utilities to be trendy, lightweight and convenient to use. The age of heavy, cumbersome products that need humongous space to be stored and 2-3 people to carry them around is over. Bonita has realized that urban Indian consumer's demands for home utility products has changed radically with the change in lifestyles and shrinking of spaces.
Bonita India wanted to change the home lifestyle through its stylish and innovative home utility products. All the products are ideal choice for households which are trendy and unique in their own way. The products are made as an intrinsic part of many families and homes across the country and are available in Shoppers Stop, Home Town, Hypercity, etc.
About Bonita
Bonita is an International Brand known for its stylish Home Utility products in Laundry, Storage, Organizing and Kitchen categories. Bonita means "Pretty" in Spanish and this philosophy is seen in the designs and aesthetics of all Bonita products. As the name suggests, all Bonita products have a distinct style element in it and we ensure that all products are Beautiful, Smart, Innovative and of very high quality. Bonita brand has rapidly grown and is available globally across 20+ countries under its own brand name. Bonita is selling in India (where we are brand leaders), USA, UK, Germany, Italy, Spain, France, Czech Republic, Poland, Belgium, Netherlands & many other European countries, Mexico, Australia, New Zealand & UAE with overseas warehouses in USA, Europe, UAE & India.