Admirers of fine art, fashion, design, books and lifestyle products will find a unique blend of more than 100,000 items at the launch. All products have been carefully chosen to suit varied individual artistic tastes. This truly global website features unique and curated editorial content.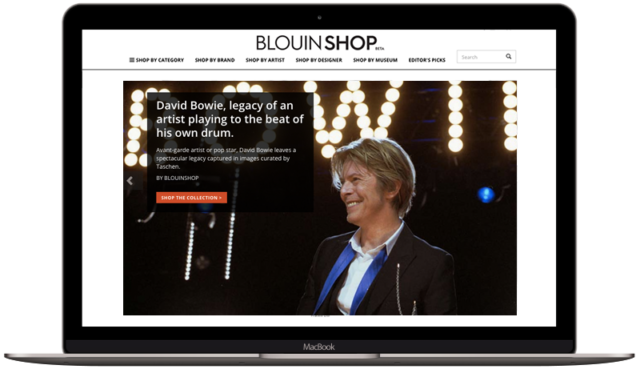 Selected by industry experts to showcase the exclusive artworks and gifts that are selected by our editors:
Curation meets Inspiration.
Launched by Louise Blouin, bio attached.
Blouin Artinfo Corp has 352 cumulative years of arts and culture expertise.
The Blouin Shop is a mirror website of Blouinartinfo.com, which has 47.5 million page views a year;
more than 10 million visits a year and more than 1 million followers on social media.
Blouin Shop has launched 15 international editions and is regularly adding more countries.
Blouin Shop is a one-stop shop to view and purchase from more than 100,000 items collected from around the globe.
Uniquely positioned with categories that go way beyond fine art to include books and antiques, decorative objects,
furniture, jewelry, home accessories, children's items, men's and women's clothing, fashion accessories, handbags,
shoes, sportswear, cars, travel, wine and spirits, magazines, electronics, videos and audio.
All the top worldwide museums are displayed on Blouin Shop: the Centre Pompidou, Royal Academy of Arts,
Louvre, MoMA, Belvedere Museum and many more.
1