11th edition to host exclusive live product demos and seminar highlighting 'Industrie 4.0 & IIoT'
Steering the wheel towards Chennai's high-potential auto hub, the 11th edition of Automotive Engineering Show is set to take place from 9 to 11 November at the Chennai Trade Center. The key business event will be inaugurated by Chief Guest for Exhibition Thiru. M C Sampath, Hon'ble Industry Minister, Government of Tamil Nadu. Tmt R. Vasuki, IAS, Managing Director State Industrial Promotion Corporation of Tamil Nadu Ltd is also expected to grace the occasion to address the industry.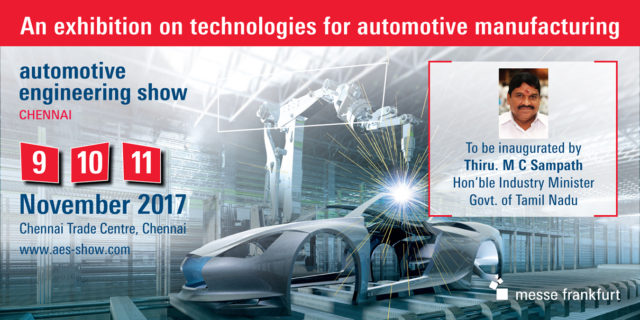 India's leading technology players, including Advanced Graphic Systems, Amvian Automotive, Carl Zeiss, CLPA, Designtech, Dopag, Eepos Cranes, Ifm Electronic, Ingersoll Rand, Nikon, Omron, Panasonic, Polyworks, Tal Manufacturing, and Tunkers are among the companies who will be showcasing the latest in automotive manufacturing technologies with live demonstrations at the fair.
Being the epicentre for this sector in India, Chennai has seen a presence of major automobile manufacturing companies and is the base to 30% of India's automobile industry and 35% of its auto component industry. Targeting technologies that will help optimise the efficiency and work flow for automobile manufacturing shop floor, AES will largely cover the product groups of automotive design and R&D, automotive inspection and quality control, automotive paint and finishing as well as automotive plant equipment and systems that will allow manufacturers to collaborate and exchange technical know-how during show period.
Covering all the key clusters through its Pune, Delhi, and the upcoming Chennai edition, AES has uniquely positioned itself as a key business event with regional expertise and networking opportunities for industry players. In the last three years, the show has seen intrinsic changes with an orientation towards becoming a knowledge platform for the industry and this is what AES Chennai will capture through a combination of meaningful user workshops, a series of highly insightful conference sessions and a compact exhibition area of automotive manufacturing solutions.
In Chennai, alongside the exhibition, a two-day seminar will cover current industry subjects including insights on the opportunities that Industrie 4.0 and IIoT can create for the Indian automotive manufacturing sector. Visitor experience will further be enhanced by live product demonstrations and workshops by leading brands over the three days.
For more information, please check our website: www.aes-show.com