Seminar Delves into Creative Process Following Gala Fashion Show
8 September 2018 – Inspiring the public with discussions on strong construction and fabric choice, as well as the impact of fast fashion on the industry, designers and brand representatives from Japan, Hong Kong and the Chinese mainland spoke at the "In Conversation with the Asian Creative Forces Shaping the International Fashion Scene" seminar on Thursday (6 Sept). The seminar was part of the Meet the Visionaries Series held during the third edition of CENTRESTAGE, Asia's premier fashion event. The designers had presented their latest collections at the CENTRESTAGE ELITES gala fashion show on Wednesday (5 Sept).
Heart-touching Designs
Japanese designer Hiromichi Ochiai, Fashion Designer and founder of acclaimed label FACETASM, said he was "very concerned about originality" and finding the "missing part" in the fashion world to include in his latest collection.
He spoke about his love of combining different fabrics and styles to create a collection that defies age and gender boundaries, such as latest collection, which used a diverse array of materials – from leather to synthetics – and transformed them into a playful and forward-looking "neo-urban" vision.
"[What is] the most important is how clothes can move people's hearts and touch people's hearts," Mr Ochiai said. He also had words of encouragement for young designers, urging them to believe in their unique vision. "What you believe is right is not always the same in other people's eyes, but it is important as a designer to have your own faith and what you see," he said. "The work of a designer is to bring happiness to people."
Dedication, Construction and Design
Mr Ochiai was followed by budding Hong Kong design duo Cyrus Wong and Julio Ng, Fashion Designers and founders of label IDISM, launched in 2016. Having completed their fifth season, both designers were able to reflect on their inspirations and continuous challenges.
"The fashion industry is so fast, so fast that we felt garments are not well appreciated these days," said Mr Ng. "People don't have as much knowledge about fabric or the creative process, so we wanted to create a collection to tell people to feel a little bit more in terms of seeing and feeling."
The IDISM collection shown at CENTRESTAGE ELITES was inspired by "health and lifestyle", with minimalist yet elegant shapes and graphic prints that permit movement and tactile experience, which have drawn media praise for the label.
Mr Ng's feelings were echoed by his partner Mr Wong, who said he felt inspired by the construction process of garment making. The label's prints and fabrics are also designed by the pair to ensure optimal effect. "Every designer is different but for me my influence is paper patterns. It's one of my influences and really drives my design," Mr Wong said.
However, both agreed the label hopes to slow down for their next season to dive even deeper into the construction and design process. "The first five seasons we were always doing shows," said Mr Ng. "The next season we feel like we need to stop doing shows and construct an even more forward collection. We need an even stronger message."
Rich Fabrics and Historical Hues 
The seminar concluded with Ian Hylton, President of the acclaimed mainland designer label Ms MIN, launched in 2011 by designer Min Liu after she gained experience at fashion houses Ports 1961 (of Canada) and Viktor & Rolf (of the Netherlands.)
Mr Hylton told the audience about the founding of Ms MIN and the brand's rapid rise from its first show at a contemporary art fair to luxury retailer Lane Crawford selecting the brand for its first mainland stores.
What started as a small purchase order by Lane Crawford for one store quickly grew in volume; it is always difficult to estimate the development of the mainland market, he said. However, it was Ms MIN's dedication to fabrics and construction that enabled the label to meet the demands of high-end consumers. "Quality is so key to what we do," said Mr Hylton, who joined the brand in 2014 to help it expand its operations.
Ms MIN ended up opening its own mainland factory to maintain total quality control of the label. The production scale-up has enabled Ms MIN to continue to cultivate a sense of luxury, particularly in its latest collection shown at CENTRESTAGE ELITES, which recalled 1920s Shanghai and featured rich colours and fabrics from traditional Chinese fashion.
Designer Ms Liu was inspired to incorporate traditional Chinese elements into her designs when she found that she could no longer find traditional clothes for herself on the mainland, according to Mr Hylton. While she took a great risk by attempting to market clothing with a traditional flavour and cultural feel to mainland consumers, many of whom generally prefer Western fashion, her dedication ultimately resulted in success and critical acclaim for Ms LIN, Mr Hylton said.
The Meet the Visionaries Series of seminars, aiming to let the industry exchange ideas with top fashion designers, is being held at CENTRESTAGE, a four-day event held at the Hong Kong Convention and Exhibition Centre (HKCEC) from 5-8 Sept and organised by the Hong Kong Trade Development Council.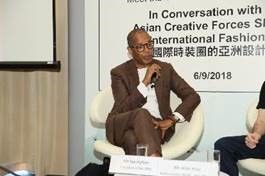 CENTRESTAGE website: http://centrestage.com.hk 
The Hong Kong Young Fashion Designers' Contest webpage: http://www.fashionally.com